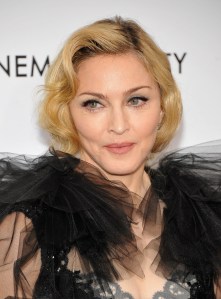 If we had to choose Madonna's halftime show setlist for the Super Bowl, we might go as controversial as possible–why not a "Justify My Love"/"Like a Prayer" mashup? And yet it seems that NFL Magazine has leaked Madonna's setlist, or at least part of it, and it's pretty tame. CBS Sports reveals that the rag wrote:
Though Madonna's set list was not officially announced at press time, fans might expect her to give all her luvvin', provide a ray of light and be in vogue with her music. The Super Bowl is almost a national holiday, after all.
This would seem to indicate that the erstwhile queen of pop will be performing spelling-optional new single "Give Me All Your Luvvin,'' 1990s eastern-religion freakout "Ray of Light," Paris is Burning jam "Vogue," and by-now-a-standard "Holiday." With those four songs, there's little time for much else, given that somehow two dirty snowmen given life called LMFAO will be doing a guest spot, too! Enjoy the five minutes of football you'll accidentally watch while waiting for halftime, Madonna fans!