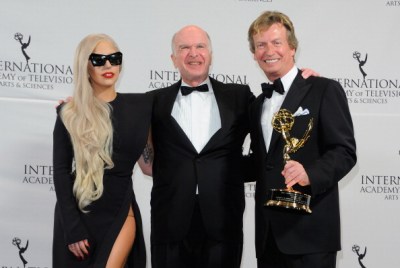 Simon Cowell may have been the intimidating presence to American Idol viewers watching from home, but as we found out Wednesday night during the second episode of season 11, the performers on-stage are more freaked out by the strong, silent type standing right off-camera: British producer Nigel Lythgoe.

Mr. Lythgoe only recently returned to Idol last season; he had departed from the show after making his name on the across-the-pond hit and So You Think You Can Dance? Though we might think of the friendly Ryan Seacrest as the "producer" of Idol, it's been Mr. Lythgoe paying the host's salary…recently offering to do so from his own pockets after rumors of a salary slash on the show.
But the 62-year-old British personality isn't all smiles and free money; The Christian Science Monitor noted today that the last episode saw judge Jennifer Lopez repeatedly looking off camera for validation and occasionally making comments to an unseen individual.
Wednesday night's show made viewers aware that producer Nigel Lythgoe himself was sitting off-stage monitoring the performances. While it could be intimidating having your boss watch as you try and justify a salary that no mere mortal should ever earn, JLo's constant offstage glances and comments are distracting. Besides, no one wants to be reminded that this little audition room is just a small part of a huge set.
Mr. Lythgoe is certainly a force to be reckoned with, and knowing that he's just off screen during the episodes lends a big brother (not the show) air to the proceedings. After all, the producer's most famous communiqué to the press was in response to Adam Levine's claim in Out magazine that AI keeps its gay contestants in the closet: specifically season 8's runner-up Adam Lambert, who came out right after the show ended. (Let the military allusions begin!)
The Mr. Lythgoe's response to these charges?
"When does privacy stop in this country? … I don't go into my dentist and say, 'Are you gay?' I don't say to contestants on 'So You Think You Can Dance,' 'Are you gay?' What does it got to do with me? What does it got to do with anybody?"

"He must have come out before being on Idol, he just didn't talk about it on 'Idol.' And why should he? Is every actor going on television going to say, 'I'm only playing the part of a straight man, I'm really gay'? There's no reason that I would see why anybody that goes on television should start coming out with who they are, what they are, what they're sexuality is, who they're going to vote for or what their religion is."
Of course, forcing a contestant to keep mum about their sexuality on live TV is a little different than an individual's choice to tell their dentist if they're gay, but this might explain why Mr. Seacrest would keep up the illusion for so long…if that is in fact what he's doing.