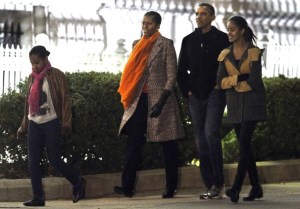 The Obamas visited the "30 Americans" exhibition yesterday afternoon at Washington D.C.'s Corcoran Gallery, according to an article in this morning's Washington Post. The show is a survey of work from the Rubell Family Collection.
The exhibition was lauded by critics, but has also been somewhat controversial since it is part of the growing trend of private collections going on view at public spaces. The show, which is made up of 31 black artists, caused a lot of talk about just the title alone. The Washington Post's review, for instance, spent some time breaking it down:
"The title, identifying the 31 artists represented as simply 30 Americans, cleverly hints at the inevitable confusion contained therein: Do the artists belong to a coherent group, is it a group that can be identified by race or skin color, and is this a liberating, restricting, or simply an ineluctable category?"
That said, get a load of the range of artists included in the show: Jean-Michel Basquiat, Iona Rozeal Brown, Rashid Johnson, Glenn Ligon, Henry Taylor (whom you can read more about here), Kara Walker and Kehinde Wiley are just a few highlights. "30 Americans" closes Feb. 12.