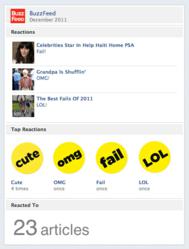 RollingStone.com senior editor Doree Shafrir has been named executive editor of BuzzFeed, the company announced today. She will oversee the social news site's expanding pop culture coverage, joining CEO Jonah Peretti, managing editor Scott Lamb and editor in chief Ben Smith (whose politics team is currently enjoying a glittery debut on the GOP campaign trail) at the top of the masthead.
"I am an avid reader of Doree's work and beyond thrilled she is joining the team as Executive Editor," said Mr. Peretti. "She was ahead of her time writing stories with the emotional intelligence and social impact that has now become the currency of the social web."
Prior to Rolling Stone, she was a writer and editor at this newspaper and at Gawker. Speaking of, she'll also be working with fellow Gawker Media alumni Whitney Jefferson and Matt Cherette.
As Ms. Shafrir told the New York Times, "BuzzFeed is super hot right now. There's incredible talent there, because BuzzFeed is built for the world that journalists live and work in right now — one in which the social web has become dominant."
Earlier this week, BuzzFeed introduced new Facebook integration that allows users to share content with a range of sentiments beyond the hegemonic "Like" button. They include: LOL, CUTE, WIN, FAIL, OMG, WTF, and GEEKY.
Sorry, Old Meanness: Still no "dislike."