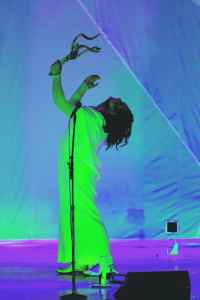 It was Thursday night at Radio City Music Hall, before the Museum of Modern Art's massive Antony and the Johnsons show, and MoMA PS1 director Klaus Biesenbach was busy showing the famous people to their designated seats, stage right of center. Apparently there'd been a slight miscommunication when it came to David Blaine's comp tickets.
"I sent you five emails!" said Mr. Blaine, in the aisle, his date just behind him.
"But only in the last hour!" the svelte director responded, turning away from Jerry Saltz and Roberta Smith, exasperated. "Not before! Not before!"
"I bought these two tickets!" The magician held them splayed.
"You should present them to someone on the street," chimed in Leelee Sobieski, whose aisle seat made her a de facto usher. She waved her hands in front of her face. "'This is magic,' poof!"
Once everyone was settled, the performance began and it was, of course, terrific. Antony Hegarty took the stage with a single microphone and white robe under a giant sculpture that resembled Chinese kites in a heart-shape arrangement. Some of the kites were foil-coated, but the bounding lasers made it difficult to tell which sections were truly reflective. The singer performed with a 60-piece orchestra, and the dancing Nico Mulhy arrangements drew attention to how many angles already exist in Antony's voice and lyrics, even without such accompaniment. The early songs were front-loaded with a rising, never breaking, never pleading hymnal sound and turned the Art Deco palace into an outer-space temple to transexualism.
"Every everything is new," he sang in one of the songs and you believed him, since the lasers offered a different stage with each track. At one point Antony was trapped in two isosceles laser triangles, and for his cover of "Crazy in Love," a laser pendulum swung back and forth, hitting a reflective patch at his feet so that when it came to him, it shattered out onto the crowd.
"Well, that's the bulk of the show," Antony said in his soft accent, near the end, his first spoken words to the audience. "I'm so fucking glad. It was so ambitious, this project!"
The rest of the show wound down and everyone prepared to leave. Matthew Barney put on his leather jacket and Björk donned her veil.
Lady Bunny, a cross-dresser from Antony's days at the Pyramid Club and who hardly needed her beehive wig to be one of the largest people in the audience, sat in the back row. Antony had arranged a comp ticket for her in the beautiful people section, though she'd graciously moved to the back because her wig would have transformed the seat of anyone behind her into a partial view. She couldn't really say what Antony's performances were like back at the Pyramid.
"I really didn't go. I worked other nights. I worked the weekends and he was on Tuesdays." Bunny glanced around the packed house theatrically. "Look how times have changed!" —Dan Duray