Leaving the Building Congress luncheon today, The Observer looked up to notice something we had never seen on the Midtown skyline before: One57! Garry Barnett's Central Park-towering apartment building is now totally a part of the city skyline, unavoidably peeking down on Columbus Circle.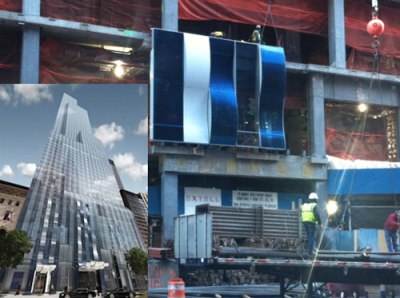 It will only continue to grow, inexorably, until the multimillion-dollar foreigners can move in, pushing the rest of us out to the Rockaways.
This is not the only interesting look we've gotten of the building lately. Just last week, Curbed noticed that some very funky glass panels had arrived at the base of the cloudbusting building, as well. This thing is going to be finished, and glorious, before we all know it.