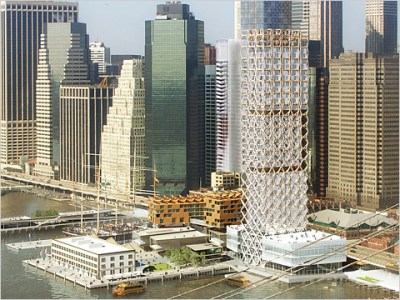 Avast, downtown!
Howard Hughes Corp. is set to reveal its plans for the renovation of Pier 17 at South Street Seaport, according to Crain's. The plans will first have to get the all clear from Landmarks Preservation Commission, which oversees the seaport historic district, and it is hoped the plans will be submitted sometime in the first half of 2012.
The bid faced opposition in the past from the commission when it was presented by General Growth three years ago, prior to the massive mall operator's bankruptcy.
Dogged in the past by building problems, the firm is ready to move forward with its presentation, after they recently conducted "thought-provoking" discussions with city organizations. One of these was with the Landmarks Preservation Commission, who they recently met a number of times, according to Crains New York.
Howard Hughes, a spin off of the bankrupt General Growth Properties, are treading carefully, considering their plans astutely, so that they are sure to appease the locals. The last leaseholder of the Seaport incurred their wrath after they proposed a large tower on the site. To satiate them, some of the latest plans being drawn up by SHoP Architects, the pier's designers, are thought to include more greenery and greater access to the street.
The delay in the pier project has be aided by an almost comic communications failure. In 2008, Community Board 1 approved the then General Growth plan once they they set aside space for a new school. Then they committed a complete about turn, rescinding their decision, after the city said they didn't need a school there.
Julie Menin, chair of CB1 and nascent borough president, told Crains that the board wanted to see the plans for the pier in the context of the whole development.
Once Landmarks is through with the project, it is on to City Planning and the City Council for a whole other round of reviews and approvals.
Bon voyage.
sduffy@observer.com