Pace University has reached an agreement to move into 140 William Street, taking the entire 50,000 square foot building for its dance and visual arts programs, The Commercial Observer has learned.
The school will be relocating from its current space at
280 Broadway
, said
David Falk
, president of
Newmark Knight Frank
who represented Pace in the deal.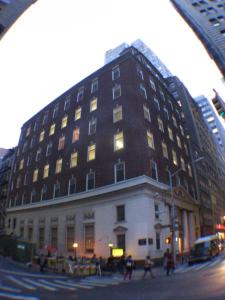 "The school's dance and visual arts programs have expanded and anticipate more growth," Mr. Falk said, noting that the school was squeezed into 12,000 square feet at 280 Broadway, where its lease is soon expiring.
Market sources say that rents in the deal at 140 William Street were in the $20s per square foot. This comes at a bargain rate, even by Lower Manhattan standards where office space can be significantly cheaper than Midtown or even nearby Midtown South.
The six-story structure's basement and lower floors will be converted to dance studios, while upper floors will be dedicated to the art program, said Kyle Ciminelli, a Newmark executive who worked with Mr. Falk on the transaction.
The ground floor, which boasts 25 foot ceilings and column-free spans, will be converted to house an auditorium for performances, Mr. Ciminelli added.
Pace will be naming the dance school after an as-yet unidentified alum who has donated funds to the program, a source said. The deal at 140 William Street comes with branding rights that will allow the school to post the name of the program on the building's exterior as well as hang university flags.
"The look and feel of the building is very academic," Mr. Falk said. "It's going to really add to the school's presence in Lower Manhattan."
Educational institutions often seek standalone properties for classroom facilities because student traffic generally does not fit within an office building setting that a school would share with other tenants.
A spokesman at Pace didn't respond by press time and executives at Lee & Associates, the real estate services firm that handles deals at 140 William Street said they could not comment. Chris Soukas, the building's owner, couldn't be reached.
Pace splits its campus between Westchester and the city and bases its Manhattan operations at
1 Pace Plaza
, an 18-story building near City Hall. The school, which has roughly 9,000 undergraduate students, has been growing in Lower Manhattan. In late 2010, it announced that it had agreed to a deal to have the New York City real estate investment trust SL Green develop a dormitory for its students at
180 Broadway.
140 William Street gained some attention in 2010 when the building's prior owner Kent Swig defaulted on the property.
Bob Knakal of Massey Knakal eventually sold the building for Mr. Swig, for around $11.5 million, to Mr. Soukas, a real estate investor who made his fortune in the fur trade.
Daniel Geiger, Staff Writer, is reachable at DGeiger@Observer.com and can also be followed at Twitter.com/DanGeiger79.