On a family trip to Miami when Pamela Liebman was 4, what interested her the most were not the white sand beaches or the clear blue water, but the buildings. "What are those?" asked the future chief executive of the Corcoran Group, Manhattan's top real estate brokerage firm.
"That's a condominium," her mother replied. She said she spent the rest of the trip rolling the word "condominium" off her tongue.
"I think I was predestined to go into real estate," she said. Years later, when visiting her realtor aunt in Beverly Hills, she said the interest still hadn't flagged. All the other kids wanted to swim the pool. "I just wanted to go look at the houses," she said.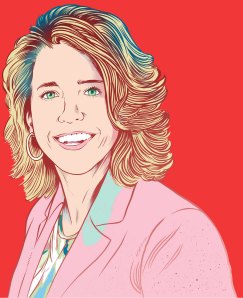 It's been 27 years since the University of Massachusetts, Amherst graduate walked into a small realtor's office in Manhattan looking for a job. "You seem like the restless type," Barbara Corcoran told her. "I don't know if you're going to stick it out." But she has and then some. Ms. Liebman has helped grow the company from 30 people and two offices to a national firm with 2,200 agents and 42 offices. You can now find Corcoran signs in Palm Beach, the Hamptons, Manhattan and Brooklyn.
It's hard to image that the busy executive with a husband and two children has room for anything else but work and family, but this year's recipient of the REBNY Kenneth R. Gerrety Humanitarian Award makes time to help in the fight against cancer, advocates for military vets and helps open up ball fields for inner-city kids. In 2001, when a family friend's 5-year-old son was found to have leukemia, she stepped up to help start the Wipe Out Leukemia Forever Foundation.
"It's heartbreaking," she said. "No family should have to go through that." The organization has raised over a million dollars through golf outings and fund-raisers and has endowed a research lab at Colombia Presbyterian Medical Center to continue to work toward the goal of eradicating the cancer. Her friend's son is in remission. He's now six feet tall and plays three sports, said Ms. Liebman. "You would never know," she said.