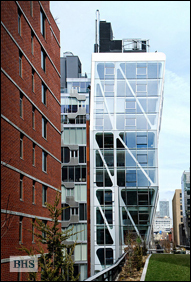 While he may be headed for one of Britain's largest divorce settlements, moneyman Pierre Lagrange seems to be doing just fine on this side of the pond. The former Goldman Sachs trader has just purchased the penthouse at new Chelsea hotspot HL23.
Mr. Lagrange, who paid $11.29 million for the pad, made headlines last fall when, after separating from his wife, he came out. He has since been linked to fashion designer Roubi L'Roubi.
With estates in London and Hampshire, Mr. Lagrange's newest acquisition will add to an already impressive collection of real estate holdings. Privacy must not be a premium for Mr. Lagrange, however, as his new home is smack dab in the middle of the ever-popular High Line.
The sale was originally reported by the Post back in December, although the price was unknown. The asking price of $12 milllion was a tad more than Mr. Lagrange paid.
The three-bedroom, three-bath home spans 3,634 square feet, with all the metallic detailing you'd expect from the haute moderne edifice. The condo includes a 1,173-square-foot wrap terrace where Mr. Lagrange can imagine he's strolling the grounds of his British estate. Sadly, there's no garage for his collection of vintage cars. Those will have to stay in Hampshire, we suppose.
eknutsen@observer.com