Seth Pinsky, head of the city's Economic Development Corporation, said that the recent motions to landmark buildings in downtown Brooklyn wouldn't prohibit landlords there from attracting tenants in search of 21st-Century accommodations.
Mr. Pinsky gave his comments participating in a panel this morning in midtown hosted by the accounting and business consulting firm Margolin, Winer & Evens LLP and came as other panelists, including Mr. Pinsky himself, highlighted the need for new space in the city.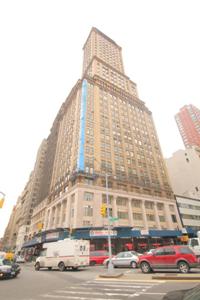 Edward Minskoff, chief executive of the eponymously named real estate investment and development firm as well as Christopher Albanese, a prinicipal at the Albanese Group, also spoke at the event and described new office development projects their firms are undertaking.
Mr. Minskoff is currently in the initial stages of building 51 Astor Place, a roughly 425,000 square foot office building that he said would cost tenants upwards of $100 per square foot in rent but would nonetheless draw takers, he said, because of its state-of-the-art space and amenities. Mr. Albanese's firm is also planning a new office development at 511 West 21st Street, which borders the popular High Line Park. He said he would seek rents around $80 per square foot for the property.
Talk has become focused in the real estate industry in recent years about the city's aging office stock and the need to develop new buildings in order to preserve the city's place as a preeminent global city, especially as new development surges in competing foreign markets like China and India. Mr. Pinsky acknowledged the challenge, citing the city's recent exploration of a rezoning plan in the neighborhoods surrounding Grand Central Terminal that would encourage new, larger office towers in that area.
But when the panel's moderator, Michael Stoler, a managing director at Madison Realty Capital and host of a popular real estate talk show on public television, turned the conversation to downtown Brooklyn, Mr. Pinsky came to the defense of the proposal, which would create a district of landmarked skyscrapers in that neighborhood.
"Just because the buildings there are old doesn't mean they can't be made into technologically advanced properties," Mr. Pinsky said.
"Google paid almost $2 billion for an old Port Authority industrial building," Mr. Pinsky added, referring to 111 8th Avenue, where the internet giant bases its New York headquarters. "Just because it can't be torn down doesn't mean it's doomed to remain obsolete."
Creation of the downtown Brooklyn skyscraper district took a major step forward on Tuesday when a subcommittee in the New York City Council voted to approve the area's landmarking, leaving only the Council, which usually follows the wishes of its subcommittees, to vote on it. The city's real estate industry has recoiled at the landmark proposal, complaining that it would preserve unremarkable buildings and would make renovations and new development in the area difficult or impossible.