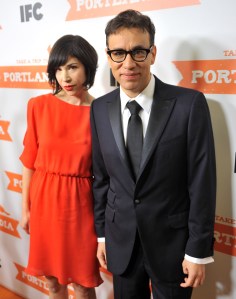 First, a little bit of back story: The night before The Observer was to go to the screening party for the sequel season of Portlandia, the IFC comedy show starring Saturday Night Live fixture Fred Armisen and Sleater-Kinney's Carrie Brownstein, an Irishman stepped on our lighter in a bar. In exchange for the gaffe, the gentleman offered us a fist-sized piece of homemade organic chocolate truffle, wrapped in decorative foil. How sweet!
As we dashed our way to the Museum of Natural History last night in order to see what could possibly top the catchphrase "Put a Bird On It," we split the giant confection with a fellow famished coworker. Which would have all been fine, if we hadn't made the completely understandable mistake of confusing "chocolate truffles" for "chocolate-covered mushrooms." No, not truffle mushrooms. The other kind. (In hindsight, putting actual truffle mushrooms into chocolate doesn't make any sense either.)
We guess that's why your parents warned you never to take organic candy from strangers. Ooh look, there's Bill Hader and Kristen Wiig! Are those two glowing, or is just the hallucinogens kicking in?

Portlandia as a show works by playing on conventions of hipster culture. While the first season took on broad subjects like eco-freaks, obsessive crafters (Put a ___ on it!), and outraged feminist retailers, the episodes screened for next season were more niche in their targets. Andy Samberg played a cocktail creationist torn between the life of an artisan mixologist and that of a SoCal bartender, while Ms. Wiig's amazing cameo as a feline band's Misery-inspired super-fan reminded us why we never let the Keyboard Cat take creative control of our musical group.
It should be mentioned, our coats just felt really good, sitting in that theater. So soft!
The opening scene in Portlandia's second season tried to recreate its success with the "Put a Bird on It" catchphrase. Unfortunately the new slogan "We can pickle that!" felt like a Mad-Libbing of last season's hit formula instead of fresh material.
Midway through the show, we realized we were sitting so close to Friday Night Lights/American Horror Story's gorgeous and talented Connie Britton that we had to physically restrain ourselves from touching her hair. But we really wanted to? She has great hair. To be fair, we had on our Red Wolf Spirit Hood, which at the time we believed rendered us invisible. Or invincible. (One of the two.) Jeff Goldblum, sitting three feet away, had a really deep purple chakra. Lorne Michael's chakra, visible two rows over, was pewter and had a slight Canadian accent.
After the screening, guests were ushered up to a Portlandia-themed bar room, which featured a lot of colors, pickle jars, anxiety emotions, a giant children's parachute, and a two-to-one celebrity/non-famous person ratio.
While Fred Armisen posed for photos with his mother, we asked if the actor felt like his show resonated as much to the East Coast, Williamsburg audience as it did with Oregonian hipsters. Did he see them as sister cities, or was the location of the show crucial to its humor?
"Portland's got a lot of sister cities," Mr. Armisen replied in his surprising dulcet voice, while behind him the wall began melting distractingly. "Williamsburg, Tokyo, Austin…that culture can be found in so many places now." The pandemic of 20-something liberal arts majors in large cities whose tastes run towards raw foods, hypocritical eco-snobbery, and a fanatic disdain of anything "mainstream" could explain the show success: to date, it's had the highest ratings of any show on the network.
Making our way to the back bar area where the cast and crew of Saturday Night Live were spending the evening, we were in high spirits. We were the spirit god Red Fox! No, you can't touch our hat! It's a hood! It has powers!
We found SNL writer and Law & Order enthusiast John Mulaney chatting with a small group about his love for American Horror Story. His lady friend was clearly a supporter of West Dillon High, with a shirt reading "Clear Eyes, Full Hearts, Can't Lose." Ms. Britton herself was nowhere to be found, though we did spot new cast members Vanessa Bayer, Taran Killam, and Paul Brittain all trying to look old enough to drink. We managed to tackle Mr. Killam; telling him how much we loved his recent cameo as a deranged glee teacher on Community, which lead to a short discussion with the actor on the NBC show's brilliance and unfortunate hiatus, before Ms. Bayer rescued him from an evening of chit-chat with an accidentally intoxicated reporter.
"Tell her how much you love her Miley Cyrus impression," a nearby friend elbowed us. Come on, we weren't that stoned.
While Mr. Hader and Ms. Wiig were early arrivals on the scene, looking glamorous, costar Jason Sudeikis showed up around midnight in what appeared to be sweatpants and a backpack. Coming from the gym, perhaps? Kristen Schaal, Seth Meyers, Dave Hill, Heather Lawless, Todd Barry, Kumail Nanjiani, Jack McBrayer, Jon Glaser, and David Cross rounded out the comedic social network. A heated debate between ourselves and our + 1 over the name of that Nicolas Cage film directed by one of the other Coppolas resulted in Mr. Cross leaning in and asking, "Are you having this conversation for my benefit?" (Totally! How did he guess?**)  There may have been some incisive commentary to parse from that exchange, regarding the parallels between celebrity and hipster narcissism, but we didn't feel like chasing the analogy once it took corporeal form as a misshapen bunny and hopped to the exit. We decided to follow our hallucination's pragmatic work-night vibe and put a bird on our evening before last call.
As for our tiny coworker with whom we shared our candy? We hadn't heard from her in the last three hours; as far as we know, she's still camped out somewhere in the museum, living out our childhood fantasy from The Mixed-Up Files of Mrs. Basil E. Frankweiler. If she doesn't show up by tomorrow, we'll assume she's decided to live in the museum and off the grid for good. That would just be so Portlandia of her!
**The movie, by the way, was Deadfall.