Now that Entourage is over and Mr. Piven has bought a piece of New York real estate, we can look forward to him unshaved and mumbling to himself all along the West Side and SoHo, talking about how his next project, a reality show about glassblowing, is going to be the biggest hit. By March, expect at least three drunken brawls.
Why should his brother get all the attention? This is the year that Emilio lashes out against father Martin Sheen in a last-ditch effort to become the more famous sibling in the family and earn a place in the Sheen family will.
The Gossip Girl star now has a home in Williamsburg and already has a history of drunken debauchery. Combine that with his ridiculous, fake-sounding accent and we imagine some bridge-and-tunnel machos beating him up for mocking them with his "fancy voice."
America has only known Russell Brand since he's been attached to Katy Perry. Can you imagine how obnoxious he'll be once he starts trying to pick up chicks at Caroline's? Page Six will cover it extensively, every time he has a one night stand. It'll be like Derek Jeter all over again, except this time without the wonderful prizes.
Remember how self-entitled and smarmy his character was in Muholland Drive? Yeah, well times that by 1,000 once he gets engaged to Jennifer Aniston. Plus, dude drives a motorcycle with a black leather jacket. Give it a rest, James Dean.
Through no fault of their own, the Beyonce/Jay-Z spawn has already become one of the hottest topics of the new year. And it hasn't even been born yet. Can you imagine how much coverage this infant will get once it's actually birthed into the world? We smell People magazine cover!
Sure, he was on our list for last year as well, but look, he's not going anywhere. If anything, he's just going to get worse.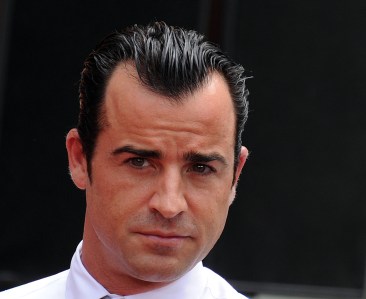 2011 was full of a terrible celebrity solipsism played out on a giant stage. Sure, some of it was entertaining– Alec Baldwin's Words with Friends incident, for instance, or the national train wreck of Charlie Sheen (first half of the meltdown only)–but for the most part, our enabling of famous people to act like literally the worst people in the world resulted in only tears, annoyance, and the Kardashian wedding.

This year we're hoping to cut these public spectacles off at the pass by predicting which celebrities going to make a desperate bid for attention and why. Hopefully by identifying these people early enough, we'll be able to begin ignoring them before they start flashing their crotch when exiting limos.