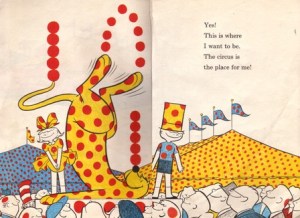 Put Me in the Zoo is a famous children's book by Robert Lopshire, originally released in 1960 on Dr. Seuss's publishing imprint. It tells the story of a spotted leopard who can change his spots and their colors, and can even juggle them. He fails to convince two children that he is special enough to be in the zoo, and in the end they tell him where he belongs, and the story ends happily.
Little could Mr. Lopshire have known that his story would one day explain Damien Hirst's spot paintings to a tee. In fact it could be surmised that Mr. Hirst, below referred to as $pot, was directly inspired by this story.
At the outset of the tale, Spot, the leopard, says to the two children, "I will go into the zoo, I want to see it yes I do." Let's take the zoo as a metaphor for the museum. $pot has never had a retrospective show in a museum, though for almost 20 years he's been the most talked-about artist in the world. His wish will come true at London's Tate Modern this coming May, though by now he's so supersized and has produced so much art that much of it won't be exhibited.
Spot the leopard continues, "I would like to live this way; this is where I want to stay." $pot always claimed that he didn't care about museums and what other people thought of him. In fact, he once fearlessly told me that he "weighs his press by the pound." In our story, he reveals that, deep down, he still wants to get into the zoo, where he can be exhibited with all the other animals.
At this point, the zookeepers chime in. "We do not want you in the zoo," they tell Spot the leopard. "Out you go, out with you." The curators, the art critics and the whole art establishment don't want $pot in because he doesn't play by the rules, and he's not acting like the other animals. He's unruly: He juggles, he changes colors, he keeps inventing new ways to play with spots. In the past decade there has also been a direct engagement with money, since he's made gold spots and gold formaldehyde cases. He has played with every taboo, including making huge amounts of money by selling directly through an auction house and still getting his dealers to cater to him, flatter him and play his game even though he flaunts his disrespectful spots to them and everyone else who's looking.
Spot the leopard confides to the children, "Why did they put me out this way, I want to be in, and I want to stay!" In Mr. Lopshire's story, when the leopard walks into the zoo, the keepers pick him up and throw him out the front gate. He's disturbing the other animals and the whole system the zoo is based on. In our story, remember that much like zoos, museums are public institutions, because people need a place to see the animals, but entry to the cages is strictly controlled by the keepers. They don't want $pot, they don't understand him, he's a loose cannon, and though he creates a lot of excitement and will bring in a big audience, he's thrown out because he's too wild and unpredictable.
The two children challenge Spot the leopard. "Why should they put you in the zoo, what good are you, what can you do?" The children, in our scenario, are the art collectors and the art market. Some are expert and some are naive, but they're not put off by $pot's spots. Instead, they're intrigued by them.
By way of response to the children, Spot changes his spots' colors, delighting them; they ask for a repeat performance, and he obliges. "I can do more," he says. "This one is new, blue orange green and violet too. They would put me in the zoo, if they could see what I can do. I can put my spots up on this wall, and I can put them in the hall. I can put them on a cat and I can put them on a hat. I can put them on the zoo and I can put them on you … I take my spots, I take them all, and I can make them very small. And now you see I take them all and I can make them very tall. And when I want to have more fun, I take my spots and make them one … I can put them high up in the air, my spots fly here, and my spots fly there."
Doesn't it all make perfect sense to you now? In every size and color, the more the better: spots here, spots there, spots everywhere! Mr. Hirst makes his spots tall and he makes them small; they've flown here and there (Gagosian galleries in New York, Paris, London, Athens, Hong Kong, Los Angeles and Geneva, and collections around the globe). He'll never stop making them because the whole series is about making as many as possible. They are all part of one huge work of art, comprising all 1,400 works made to date. If $pot can sell all the new ones in the current shows, then he can make more and more.