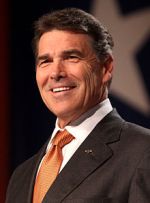 Texas Governor Rick Perry finished in sixth place in New Hampshire tonight, scoring last among the main candidates for the GOP nomination. As the rest of the field is making their concession speeches on television, the Perry campaign phoned it in, so to speak, by conceding electronically.
"Tonight's results in New Hampshire show the race for 'conservative alternative' to Mitt Romney remains wide open," the statement read. "I skipped New Hampshire and aimed my campaign right at conservative South Carolina, where we've been campaigning hard and receiving an enthusiastic welcome."

Governor Perry's focus on South Carolina is more than rhetoric, they appear to be staking their entire campaign on the Palmetto State after finishing last in the Iowa caucus, when he announced he was "reassessing" his campaign.
He's currently winning less than 1% of the vote in New  Hampshire.
Mr. Perry is hardly the only candidate whose fortunes seem to be wed to the South Carolina primary. Rick Santorum and Newt Gingrich, who are still competing for fourth place in the Granite State, are also hoping the more conservative state delivers them a big win. South Carolina votes on January 21st.