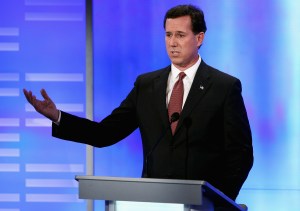 Rick Santorum went straight at Mitt Romney in tonight's Republican Presidential debate in Manchester, New Hampshire standing behind comments he made earlier today that Americans don't want a businessman like Mr. Romney in the White House.
"Of course I was talking about Governor Romney," Mr. Santorum said. "He says, I'm going to be, I– you know I've got business experience.' Well, business experience doesn't necessarily match up with being the Commander in Chief of this country."
Mr. Romney spent over twenty years working for the management consultancy Bain & Company and the private equity firm Bain Capital, which he co-founded in 1984. He defended himself against Mr. Santorum's charge that his business background didn't adequately prepare him for the White House by saying business leaders understand the real world far better than their counterparts in Washington.
"I think people who spend thier life in Washington don't understand what happens out in the real economy they think that people who start business are just managers. People who start as entrepreneurs to start a business from the ground up, and get customers, and get investors and hire people to join them, those people are leaders," Mr. Romney said.
Mr. Romney also pointed to his experience as head of the Salt Lake Organizing Committee for the 2002 Winter Games and as Governor of Massachusetts from 2003 to 2007.
"The chance to lead in free enterprise is extraordinarily critical to also being able to lead a state like I led in Massachusetts, and by the way, lead the Olympics. My experience is in leadership," Mr. Romney said. "I wish people in Washington had the experience of going out and working in the real economy first before they went there and they'd understand some of the real lessons of leadership."