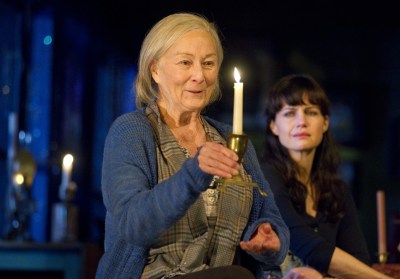 It wouldn't be accurate to label British-born Rosemary Harris "the first lady of the American theater" as long as Julie Harris (no relation) is still alive. But with all the other greats long departed, she's pretty much in a class by herself. For a good example of just how rare her patrician yet persuasive ability can be in holding a restless audience spellbound in an otherwise painful and pedestrian play, all you have to do is get through the Roundabout revival of The Road to Mecca at the American Airlines Theater on West 42nd Street. For the record, it marks a celebration of her 60th year as a Broadway star. Even as a baggy, arthritic old eccentric with shapeless gray hair clinging to worn sweaters better suited to a dust bin, she is positively divine, but she deserves a better vehicle.
This dreary fugue about independence of the mind and soul in South Africa is a crashing bore by Athol Fugard, the overrated, long-winded playwright whose debatable reputation as the most important voice in South African theater has been inflated beyond justification simply because he's just about the only voice there is. He's also prolific, grinding out one play after another without enchanting anyone except a small handful of critics. More proof: Many members of the audience around me at The Road to Mecca were lulled to sleep, with only the charms of Rosemary Harris and her lusty, capable costar, Carla Gugino, to keep them from snoring. They are the only two reasons to stay awake. There is also an arch, anesthesized third performance by the worthy but miscast Jim Dale that serves as a reminder of how good he's been elsewhere. This time the focus is on Ms. Harris, playing the real-life Elizabeth Martins, an oddball recluse known as Miss Helen to her bewildered and suspicious neighbors in the Karoo village of New Bethesda on the eastern cape of South Africa. Here she provoked controversy and suspicion by creating an eccentric mecca of whimsical spirituality out of beer bottles, concrete and bailing wire, decorating her garden with some 300 sculptures of mermaids, camels, owls and Buddhas that make it now a national monument, luring curiosity seekers from every corner of the globe. This play, which takes place in 1974, was inspired by her suicide.
Into the colorful but ramshackle set by Michael Yeargan, which serves as a shrine to Miss Helen's art, comes her only friend, Elsa Barlow (the ravishing Ms. Gugino), a young British schoolteacher in Cape Town, who is alarmed by Miss Helen's latest letter, confessing the crippled joints, clinical depression and suicidal thoughts of an erratic septugenarian who has given up on life. Elsa, a feminist and civil libertarian who faces disciplinary action with the Cape Town school board for her harsh criticism of South Africa's bigoted politics and her own classroom rants defending racial equality, is on a humanitarian mission to motivate new creative impulses in her once-spirited, free-thinking elderly friend. Miss Helen is not the only thing in need of a transfusion. The play takes forever to come alive, but after brewing tea, having a good wash after her 800-mile drive from the city and lighting a stream of candles, Elsa pries from her friend the real reason for her despondence: Under the guise of protecting her from herself, the local religious busybodies of the church council have set a plan in motion to lock up Miss Helen in a retirement home. The pros and cons of such a surrender to the toxic minds of freedom of expression are debated until I, for one, felt a creeping paralysis coming on.
Act II is a tug of war for Miss Helen's soul between a maddeningly precise fuddy-duddy from the church (Mr. Dale), who arrives with the dual purpose of appeasing and intimidating the old woman, and the politically progressive and infuriated Elsa, who already considers native old guard Afrikaners comparable to the bored, irrelevant characters in a Chekhov play. While the world goes up in a bonfire, they fight to hold on to a cherry orchard. Do the townsfolk want to save her their unconventional neighbor from herself—or save the community from her? The play drones on for another hour before Rosemary Harris finally speaks her own mind in a much-anticipated act of defiance that recaptures the spirit that made her different from the others in the first place. This showdown is too long coming, and when it does, her usual clarity and enunciation are surprisingly muted, thanks to the stagnant direction of Gordon Edelstein. In fact, everyone has trouble being heard clearly and distinctively past the third row of the orchestra. The play is too talky for its own good, and not all of the talk resonates until that final scene, when so many revelations pour out of all three characters that audience assimilation is frustrating.
For the most part, the acting still soars. Ms. Gugino has frittered away so much valuable time pursuing a film career in forgettable low-budget Hollywood rubble that we tend to forget how mesmerizing she's been on the New York stage in plays by Eugene O'Neill, Tennessee Williams and Arthur Miller. I will never forget her devastating performance as Marilyn Monroe in the Roundabout revival of After the Fall. She is also as ravishing as she is accomplished. As far as Ms. Harris goes, I yield to no man in my adulation, though I prefer her in sophisticated comedies by Noël Coward and powerhouse dramas like The Lion in Winter. Shuffling around by candlelight in her worn house slippers, clutching her battered elbows and losing her way in the throes of early dementia in a play as bloodless as The Road to Mecca, she's still fascinating, but one hopes there are more rewarding roles waiting in the wings. This time she's a barn thrush lost in a peacock garden.
rreed@observer.com