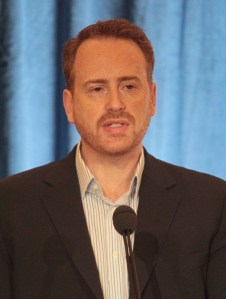 After introducing the bulk of the cast of his new series Smash, NBC Entertainment President Robert Greenblatt was ready for applause at the Cinema Society premiere of his new series (sponsored by Volvo), at the Metropolitan Museum of Art. He hadn't taken into account the cast members, a bit less famous than Debra Messing or Anjelica Huston, whom he'd forgotten. After he thanked various cast members and begun moving on, Mr. Greenblatt was interrupted by a crowd of screams.
"Christian!"
It was then that Mr. Greenblatt remembered Christian Borle, the actor playing one of two writers of the musical upon which Smash hinges.
Mr. Borle stood up, shouting, "You planned it that way!"
"Did that work okay?," asked Mr. Greenblatt, moving on to describing the efforts of the crew.
"Music!" shouted a voice to our left. After Mr. Greemblatt's introduction of the musicians, the writers of Smash's music stood up and shouted "We got more than you, Christian!"
Said Mr. Greenblatt: "This is turning into a free-for-all!"
As Mr. Greenblatt thanked the musicians, a contingent in the upper left side of the audience shouted "Theresa!" for Smash writer and executive producer Theresa Rebeck, whom Mr. Greenblatt thanked by noting that "the writing of the show is the biggest chore." Mr. Greenblatt finally thanked "everyone I know and everybody who works with everybody."