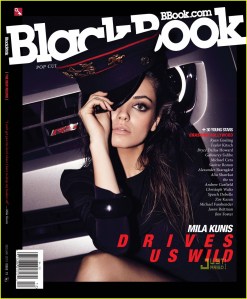 Supermarket magnate, billionaire, Bill Clinton pal, Pittsburgh Penguins co-owner, powerhouse Democratic donor, and Page Six extortion victim Ron Burkle is back in the hip Manhattan culture rag business, and his partner-in-crime is Magic. Literally.
Ron Burkle and Earvin "Magic" Johnson have teamed up to purchase BlackBook Media, publisher of the 15 year-old BlackBook Magazine [Full disclosure: a previous employer of this writer.] as reported by the New York Post.
Over the last three years, BlackBook—a publication of which Burkle-extortionist Jared Paul Stern was still a contributor to not all that long ago—went from a downtown hipster fashion rag notorious for not paying freelance writers to a content machine, building out listings in cities across the world, and using those listings for custom app development for advertising buyers. These were some of the assets that proved attractive enough to get Mr. Burkle and Mr. Johnson to invest in the company:
The biggest plum in the newly acquired business is Access Network, whose software has been licensed to over 100 media operations. It allows clients to refine their database lists with curated material such as local restaurant reviews. Access Networks software is used by Corcoran Real Estate Guides, Maxim Guides, MTV's "Jersey Shore" Guides and Bravo!'s Top Chef Guide, among others.
The duo also purchased Vibe Holdings last year. Incidentally, BlackBook's president Ari Horowitz stepped down as president of Vibe under different ownership in 2007 to focus more on BlackBook. The last time Mr. Burkle was involved in the ownership of a fashionable Manhattan glossy magazine, it was his partnership with Yusef Jackson—son of Jesse—in the third and final iteration of Radar Magazine, which was shut down and sold off to American Media in 2008. At the time, Gawker wrote:
There's really never been any evidence that Burkle loves magazines. Murdoch will take a loss for years on something like the New York Post. Burkle didn't give [Radar editor Maer] Roshan the five years he said it'd take to break even on Radar before he pulled the plug. Because if it's not subsidizing his lifestyle, it's not worth the cash. He's a capitalist, obviously, and Radar was not a charitable endeavor, but if we had his fortune we wouldn't mind wasting it on the talent Roshan brought together.
Given BlackBook's diverse asset basket, it's not likely they'll see the same fate, despite all of the incidental Manhattan magazine history at play (one would hope).
fkamer@observer.com | @weareyourfek