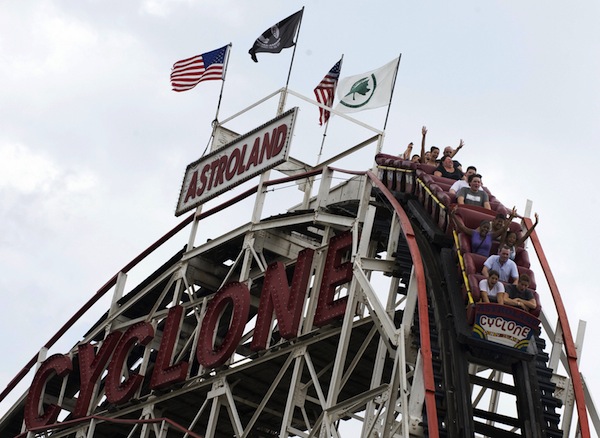 It may not have loops or corkscrews or whirligigs, you're feet don't hang and there's no pneumatic launch. Like a true New Yorker, the Cyclone never needed any gimmicks to be world's greatest roller coaster (a title it's held indisputably for the past 85 years). A good deal of the coaster's excitement is owing to the rough ride it gives, like an out-of-control subway train. It turns out a little grit and neglect can be good for you.
But just as Central Amusements International has been sanitizing the boardwalk, the city-sanctioned Coney Island operator has committed perhaps its greatest indignity yet. Sure, Ruby's is a timeless Coney tradition, but you do not mess with the Cyclone.
According to The Brooklyn Paper, in the name of safety, the Cyclone is being fixed up after decades of deterioration. The last time it was fixed up was in the 1970s, when the city rescued the ride, and since then loose planks and tracks have created that signature seaside shake. A number of coaster aficionados are rattled by the revelation, but CAI insists the ride will be the same.
But [CAI spokesman Tom] Corsillo said the Cyclone's faithful had nothing to worry about, claiming the Cyclone will now be safer, but still be scary — its top speed of 60 miles per hour will not be changed, and its hairpin turns that have been famous since the 1920s will not be affected by the update.

"What made the Cyclone popular is not changing," Corsillo said.
At the very least, CAI could have announced the changes in the summer, so people could have gone for one final thrashing. It might have caused an uproar, but the city and its operator have had little trouble running roughshod over opponents on the ocean in the past, so they no doubt would have gotten their way. And it could have helped boost those barely better attendance numbers, as well.
This is worse than a bad sunburn.