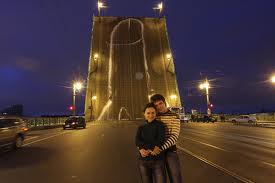 Voina, the radical art collective founded in Moscow by a philosophy student in 2005, released a statement to the New York Times yesterday claiming responsibility for bombing a police vehicle in St. Petersburg on New Year's Eve. The vehicle was used to transport prisoners.
A video seemingly depicting the attack was posted online on Monday. It shows a person placing something beneath a parked armored vehicle that then bursts into flames. The St. Petersburg police said the fire damage to the vehicle was "insignificant," according to The Times and was skeptical of the group's involvement in the damage.
Voina has clashed with police many times in the past, most famously when they drew a large penis on a St. Petersburg drawbridge.