Tennis pro Serena Williams is doing her best to swipe a Banksy piece from the Art Series Hotel. Of course, a really good art thief would not tweet about it to her 2,397,583 followers, but don't worry…it's totally legal.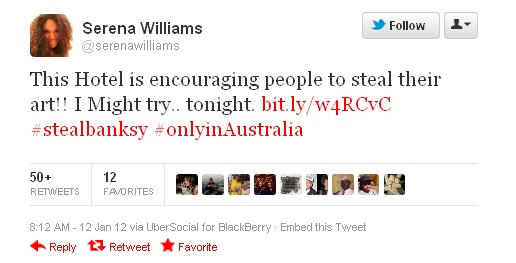 Serena's tweet from yesterday links to Melbourne's Art Series Hotel. A new game called StealBanksy began on December 15th, and encourages visitors to find one of two traveling Banksy photos as they make their way around the hotel. If you are able to successfully steal it, it's yours. If not, it goes back on the wall. Neat right?
So far one of the infamous street artist's paintings, "No Ball Games," was already stolen by non-famous people Maura Tuohy and her accomplice Megan Aney. The other one, "Pulp Fiction," is still up for grabs. By having Ms. Williams publicize this fun little project, we wouldn't be surprised if the maid somehow looked the other way when the tennis player leaves the premises with a giant rectangle under her shirt.