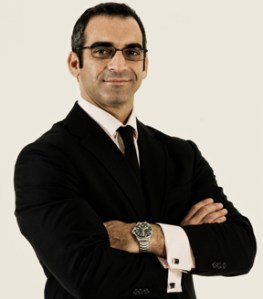 It was a clear fall day on the Upper West Side as Shlomi Reuveni walked briskly down Broadway. Rising on either side were the Art Deco and Gothic buildings with their enduring cornices and hand-laid bricks, the quintessence of Uptown living.
Mr. Reuveni was headed for the Laureate, a recently completed condo building that has been quietly commanding some of the top prices in the neighborhood, thanks largely to his efforts as the building's broker. High profile notwithstanding, The Observer almost walked right past the place. It may have been Mr. Reuveni's broad stride that distracted us from the entrance on 76th Street. Or perhaps it was the luxury building's understated glory. The Laureate is camouflaged, almost theatrically so, to match its surroundings. The faux prewar detail is impressively comprehensive, from the painted iron balconies to the granite and limestone facade.
"Hey Shlomi!" the man at the front desk called out. "Hello!" Mr. Reuveni responded, beaming brighter than the lights of the lobby's artificial Christmas tree.
He showed us around the model apartment and an unfinished penthouse, introducing the building with the pride of a new father. Having worked on the concept of the Laureate since the site was still an Avis parking garage, Mr. Reuveni personally oversaw every stage of the project, coordinating with the developer, designers, marketers and agents, taking the building from blueprints to move-in.
Currently enjoying impressive success in sales, the Laureate has benefited from its broker's dedication. Since late August, Mr. Reuveni and his team at Brown Harris Stevens Select have sold 46 apartments totaling $239,376,708. This does not count the four other developments he is responsible for, with dozens of more deals in each. Mr. Reuveni may well have become the top-selling agent in the city.
Tour the Domain of Shlomi Reuveni >>
Mr. Reuveni has found himself riding high in New York's top-end real estate market, a fact manifest in his upright strut as he toured around the newly minted edifice, rubbing the walls, detailing the kitchens, his arms spread wide admiring the views through floor-to-ceiling windows. The lingering construction crews, putting the final cosmetic touches on the building, all greeted Mr. Reuveni with wide smiles beneath their battered hard hats.
In his buildings, everyone knows Mr. Reuveni. But in the broader world of New York City real estate, he has remained something of an enigma.
Despite his success, Mr. Reuveni is by and large a closed book, often appearing wary and vigilant to others in the industry. "He seems suspicious, like cautious and suspicious," one broker said. "But I guess you have to be in this business. You never know who's running behind you with a knife in their hand."
Other brokers offered almost the exact refrain: I know of him but I don't know him.