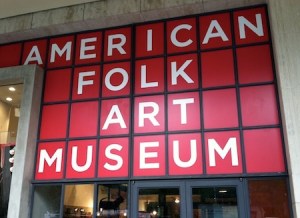 The American Folk Art Museum, which vacated its building next to MoMA last year and moved to a smaller storefront near Lincoln Center due to financial difficulties, is "reasonably secure" after selling the building on West 53rd Street and receiving contributions of about $3.5 million.
The news comes from Bloomberg Businessweek, which spoke to Monty Blanchard, the museum's volunteer president:
"We're committed to operating on a break-even basis for the indefinite future," he told them.
The museum sold its building to MoMA for $31.2 million. They occupy their current space rent-free. The museum's acting director, Linda Dunne, told Bloomberg, "The plus side of selling our building is that we are debt-free."
Yesterday was the museum's 50th anniversary.