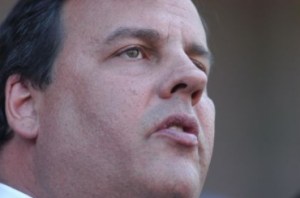 Republican Gov. Chris Christie is scheduled to land in Essex County Thursday for another leg of his comeback tour where ministers are somewhat steamed at Democrats for backing marriage equality as a cornerstone issue in their 2012 agenda.
Opposed to same-sex marriage, Christie stayed off the subject in his State of the State address Tuesday, and now heads into God's Country – specifically the Christian Love Church in Irvington – with African-American ministers affirming his stands on gay marriage, education reform and state upgrades in drug counseling.
By contrast, state Senate President Steve Sweeney (D-3), admitting his mistake in abstaining from the vote the last time around, chiseled S1 on the marriage equality bill, signifiying its importance to the session. Assembly Speaker Sheila Oliver, (D-34), East Orange, stood at his side with other Democratic Party leaders, and some of the same ministers who supported Oliver as the Legislature's first African-American woman speaker in a leadership battle last year now have questions about Democratic intentions with the bill.
"I don't think Sheila's going to push too hard on that," Bishop Jethro James of Paradise Baptist Church in Newark told PolitickerNJ.com, referring to marriage equality. "It would not be wise."
Other Essex Democrats grumble that Sweeney dredged up the issue for his own purposes even though it puts legislators with base issues in a moral and political quandary.
"I really don't need this right now," grunted one lawmaker, speaking on condition of anonymity.
Oliver told PolitickerNJ.com that Sweeney wasn't the driver.
It was a collective leadership decision to make marriage equality a priority, she said.
As for the ministers in opposition, the speaker said, "I believe that as with many legislative issues as there are, there is never agreement. I understand there are some faith leaders who do oppose it. ..But I also represent the town of Montclair, home of Blue Wave (a progressive organization favoring marriage equality), and they have communicated with me the entire time."
For his part, James acknowledged that "you give some and take some," and wouldn't expect to agree with Oliver on every issue, but reiterated his view that he doesn't think it's a good issue for Democrats.
Of course, he also doesn't agree with Christie on everything either, including a ten-percent income tax cut across the board.
"We have to live in a world of reality," the bishop said. "Ten percent across the board is not reality, although I do favor an amendment to the Constitution to not let violent offenders out of prison, I agree with the governor on that."
The Rev. Pastor Reginald Jackson of AME Church in Orange said he doesn't condemn anyone for his or her position on same-sex marriage.
"Most African-American clergy are going to be against it based on their denominational positions," said Jackson.
Having said that, he said he still would have supported Oliver for speaker, even if he knew she intended to back same-sex marriage.
"First of all, Sheila Oliver is my assemblywoman," Jackson said. "Support for her would be a slam dunk."
A vocal backer of school vouchers, the pastor added, "I think the governor is on target with his education reform. I was also extremely pleased with his proposal on drug treatment. I thought he was right on target."
Regarding Christie's scheduled appearance at Christian Love Baptist Church Thursday, Oliver applauded the governor's willingness to travel to an urban communal center.
"I'm delighted and it's overdue," said the speaker, who grew up in Newark's South Ward. "Irvington represents another side, and it's not given its proper support. In the State of the State yesterday, we heard a governor who was seeking to create some middle ground and a communication link with (an urban population). I do believe he has a sincere interest in what is a universal issue, for, of course, drug abuse also impacts young people in affluent communities in the suburbs."
Still, for Oliver the issue on which Christie does not connect goes beyond the social issues on which he and the ministers agree, including marriage equality.
It goes to the heart of what she sees as the divide: the economic question.
"The governor's got to address the lack of economic opportunity that people face – that the young man faces who leaves prison," Oliver said. "His department of labor has to step it up a bit. I have not seen a lot of visibility coming from them."