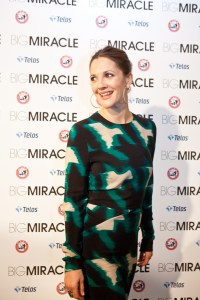 Drew Barrymore is reportedly considering converting to Judaism for her fiancé Will Kopelman

. We have never changed our own faith, though we did see the episode of Sex and the City in which Charlotte takes the ritual mikva. We also read up at BeingJewish.com! So here are a few tips for you, Drew, as you embark upon this journey.
According to BeingJewish, a rabbi "may push you off a few times, he may not show up for scheduled meetings; there's no telling what he will do to test your sincerity and perseverance." He just is that into you, Drew, even if you think "he's not!"
"You will have to study a great deal. And then you will have to study more. And when you have converted, you will have to keep studying constantly," says BeingJewish. Drew, we hope your role as a genius in Never Been Kissed was method acting!
"It is forbidden for a Jew to enter most non-Jewish places of worship," the site continues. Drew, that dream of a Wedding Singer sequel is going to require a few revisions!
All these rules! How can a rebel like you, Drew, follow them? Well, take heart: according to ConvertingtoJudaism.com, you're in good company: "celebrity converts as Tom Arnold, Connie Chung, Isla Fisher, Mary Hart, Marilyn Monroe, Elizabeth Taylor, and Sammy Davis, Jr." If Mary Hart can do it, Drew, we know you can too.