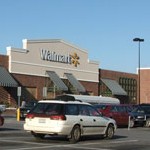 Conventional wisdom—and most public policy—says that sprawling developments garner more property tax revenue for local city and country coffers. That view however, has been thrown wide open in a recent study conducted by Public Interest Projects (PIP), as reported by Planetizen. And the results won't please sprawl-loving WalMart, who have been banging down the Cities door, trying to curry favor since 2005.
PIP's study concentrated on Ashville, North Carolina, where they were trying to develop a downtown building, one which the local county was planning on turning into a 24-hour center for emergency vehicles.
Acting on a hunch, PIP crunched the numbers and found that, astonishingly, the downtown buildings yield was $250,000 per acre in county property tax. This differed with the county's WalMart, which yielded just $8,000an acre  in comparison. The figures take on an even more bizarre meaning when you consider the space each one takes up: 34 acres at the WalMart and just 0.2 acres at the downtown site.
What gives? Well, in this scenario it seems that looking at the bigger picture is a mistake. "The point is that we have been perpetuating an error when it comes to how we think about real estate," writes former PIP analyst Joseph Minicozzi, "Our mistake has been looking at the overall value of a development project rather than its per unit productivity."
Exulting the virtues of mixed-use urbanism, Mr. Minicozzi said, "every city should be thinking long and hard about encouraging, and not accidentally discouraging, the property tax bonus that comes with mixed-use urbanism."
The study suggests that policy makers learn a lesson of shifting importanc:; from how much tax a property owes to how much the land it is built on is worth. A lesson, you feel, that most in the New York real estate already know all too well.
sduffy@observer.com