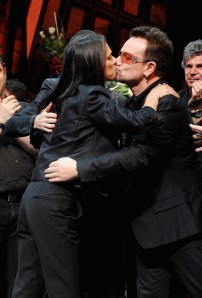 Though the production has been accident free since its official premiere at the Foxwood Theatre in June, there's still more blood to be spilled over Spider-Man: Turn Off the Dark. On November 8th, Julie Taymor, the ousted director of the play (along with her production company, LOH, Inc.) filed suit against the producers of the once-cursed production, saying that they had violated her creative rights and haven't compensated her for her work on the play.
The lead producers–who are listed in the Playbill item about the lawsuit–disagreed, and filed their own counter-suit in response to Ms. Taymor.
Ms. Taymor is requesting to be paid full royalties as a director and collaborator, according to the countersuit, "despite the fact that Taymor caused numerous delays, drove up costs, and failed to direct a musical about Spider-Man that could open on Broadway." The claim goes on to say:
"any similarities [between the final version and Taymor's original treatment]. . . exist by virtue of the fact that they are both based on the same pre-existing works in which Taymor cannot claim copyrights, including, but not limited to, the Spider-Man comic books and the 'Spider-Man' and 'Spider-Man' 2 films, which originated all of the main characters in the works at issue in this case, their settings, the Spider-Man origin story premise, and the plot elements that appear in the works."
While this may or may not be true, it will be Ms. Taymor's name who is eligible for the Tony Awards this year, and not her successor, Philip Wm. McKinley, according to a recent ruling by the Tony Awards Administration Committee. Her name also appears in the credits for the show, under both "book by" and "original directing."
While Ms. Taymor might have an axe to grind against the show's producers, she's still on good enough terms with the cast to have turned up for their June premiere, where she was greeted by "wild applause" and embraced both Bono and the Edge.