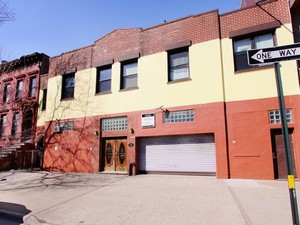 Brooklyn has basically turned into one big celebrity orgy. With a recent influx of Hollywoodians, the borough has become the new Soho, Tribeca and Chelsea combined.
Today, we stumbled upon yet another star-studded transaction: Susan Sarandon has just purchased at 334 Grand Avenue in Clinton Hill. And, believe it or not, Ms. Sarandon isn't the only bold-faced name on the deed. The home was sold by Danny Simmons, a poet, artist and older brother to Russell and Rev Run.
It's unclear exactly what Ms. Sarandon intends to do with the 2,500-square-foot condo. (Reps for the actress were not immediately available to comment.) She purchased a penthouse in the Village for $1.75 million last June, and paid ex-hubby Tim Robbins $3.2 million to keep their Chelsea duplex the same month. This will be the third property she has purchased in the past seven months, and her first in Brooklyn. Neither of the other two properties are on the market.
And unlike the other apartments, the Brooklyn abode at 334 Grand Avenue is nothing terribly grand, though it does have that most rare and coveted of city amenities, a parking garage. The Academy Award winner spent just $900,000 on the two-bedroom, two-bath place. According to the listing from Corcoran broker Toni Martin: "Lights, camera, action… direct your own lifestyle and live according to your own design in this spacious 2500 square foot condo loft."
While the outside of the building is, well, hideous, the home does boast a 2,000-square-foot roof deck and is located in the "hip and happening Clinton Hill," as Ms. Martin puts it. The home is located above the Corridor Gallery, so Ms. Sarandon can keep pretending like she's 30 again and host some cool art parties in her Brooklyn pad!
So why Brooklyn? Perhaps her beau Jonathan Bricklin needed some space to perfect his ping pong serve? Or perhaps he just always dreamed of being a Brooklyn Bricklin.
eknutsen@observer.com