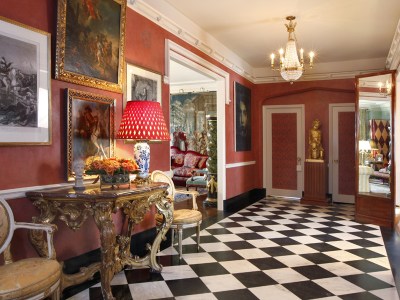 While her son may be barely breathing it seems like Duncan Sheik's mother is doing just fine. Suzanne Sheik, a jewelry designer, has purchased a $5.6 million apartment, city records show.

Althoguh she lists Florida as her primary address on the deed, Ms. Sheik is no stranger to New York. She sold a massive townhouse on East 62for $14 million in 2010, but seems to have retreated to her Floridian abode for the past year and a half. Her new apartment, located at 31 East 72nd Street is just twelve blocks from her old home. It seems Ms. Sheik is a woman who knows what she likes.
Ms. Sheik purchased the two-bedroom, three-bath apartment from Michael Rena, a longtime executive at Chanel. According to city records, Mr. Rena has lived in the building since at least 1995, and last year purchased another unit (his third) for $9.425. Now, with the sale to Ms. Sheik, he's back down to two units.
The Observer called Chanel's corporate offices to speak to Mr. Rena about the sale. We were promptly transferred to his secretary, who assured us we could speak with her instead. We we curious to know why Mr. Rena decided to sell and if he was satisfied with the final sale price. "Mr. Rena won't be interested in answering those questions, goodbye!" the secretary told us.
While the place may pale in comparison to Mr. Rena's kingly spread, Ms. Sheik has a nice set up herself. A checkered marble gallery leads into the stately living room, and the 366-square-foot master suite has views of all the surrounding towers of co-opted affluence.
The Observer called Sotheby's broker Roberta Golubock who listed the property with her colleague Serena Boardman. Ms. Golubock declined to comment on the sale.