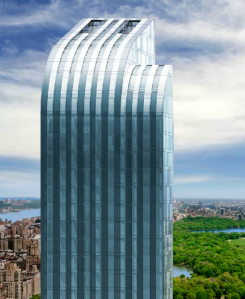 The constant one-upmanship that has come to define New York's luxury real estate market has reached new heights. After the record-breaking sale at 15CPW, Extell developers price hiked their penthouse at One57, The Journal reports, raising the price from $98 million to an astonishing $110 million.
The prize for that eye-popping price tag is a six-bedroom apartment covering 10,923 square feet at One57, a tower under construction by Extell Development Co., on West 57th Street opposite Carnegie Hall. The $110 million figure is nearly 12% above an earlier asking price for the unit, according to documents filed with the New York state attorney general.
It's no secret that Extell has been  courting foreign buyers for One57, and they were evidently encouraged by the recent Russian investment at 15CPW.
While the nine-figure price may seem outrageous, the price point isn't totally off point. At the current ask, the condo is priced at $10,070-per-square-foot, a number that while high, is definitely not unheard of.
Still, judging by the strange hooded shape of the building, it doesn't seem like the penthouse will have much, if any, terrace space, a feature that typically increases property value significantly. Then again, as the tallest residential building in the city, that might not be the best idea, either.
eknutsen@observer.com