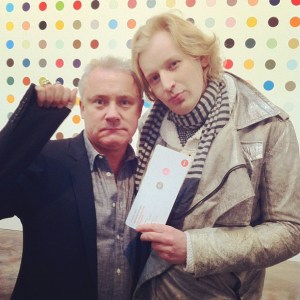 Take note of what you are doing right now. You will remember this moment forever. It was just announced that Damien Hirst's globe-trotting Spot Challenge has been completed, only eight days after the shows opened at all 11 Gagosian branches, with two Hirst lovers visiting each space.
First over the finish line was Valentine Uhovski, the socialite founder of the websites Art Ruby and Socialite Rank, followed closely thereafter by Jeff Chu, a journalist for Fast Company. The lucky men will earn a special Damien Hirst print for their efforts. (Here's a bit more about Mr. Uhovski, courtesy of Irina Aleksander.)
Toasting his victory, on Twitter, Mr. Chu wrote, "Thanks to the very kind @gagosian folks for an unforgettable #spotchallenge week–not to mention the Veuve Clicquot at the finish!" Yes, that's right, Gagosian had champagne waiting for the world travelers at the finish, making their remarkable accomplishment just a little bit sweeter.
Mr. Uhovski was gracious in his victory speech on Twitter. "Thanks again for the many e-mails and support during this crazy #spotchallenge," he wrote. "It's been a true Amazing Hirst Race!" Amazing, indeed.