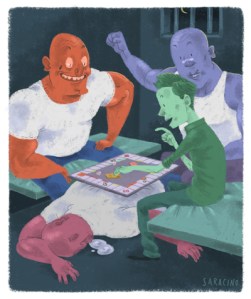 The Observer was arrested last Friday for entering the subway through an emergency exit. We were cuffed, frisked and led by a police officer through the station. Commuters with tote bags stared.
We found ourselves in a holding cell in the Union Square station precinct with a man named Felix, who had been brought in for sharing a MetroCard with his pregnant wife. Two others came, and then left with desk appearance tickets.
But we would be joining Felix in central booking. We had a warrant, an open container summons, a relic from a summer in 2008. Ah, right: the G Train, with that girl, drinking Sparks out of a brown paper bag.
Eventually, the two officers unlocked the cell, put us in our cuffs and walked us outside. One had a cigarette for Felix.
"Do you want to share it?" Felix asked as we stood by the police van.
An officer took the half-smoked Newport from his lips and placed it to mine. Then we got in the van and drove downtown.
The police facilities of Manhattan are convenient to the city's hottest new club, Le Baron. We squinted across Columbus Park, trying to make out the shadows of legs on heels set to brave the black-and-red door. That night the joint was to hold a soft opening for family and friends. We would not be in attendance.
Instead we sidled up to the bars at central booking, aka The Tombs. It was an inauspicious end to what had been a highly entertaining week. On Monday, we'd downed bottle after bottle of red wine at Inoteca with a model and her friend, an actress poised to have her breakout role in one of the year's more anticipated indie films. On Tuesday, we'd attended the after party for Coriolanus at 44, drinking double Dewar's on the rocks alongside Ralph Fiennes, Liam Neeson and Jessica Chastain. Wednesday, we knocked down Ketel One cocktails at Milk Studios to toast rock photographer Aaron Stern's new book, Everyone Must Be Announced. Then we went to the party for Haywire, at Sons of Essex, drank enough tequila and champagne to invite the guests back to our apartment and then decided to dance at Electric Room, before hitting an after party at a model's loft in Gramercy. And Thursday, we went to the opening of Tribeca restaurant Super Linda and enjoyed super-spiked margaritas before stopping by a boozy dinner at Lucien and an after party in the basement of Acme, the Great Jones Street restaurant recently spruced up by the owners of Indochine. Upstairs at Acme guests from the premiere of Man on a Ledge still lingered, so we joined them for a drink, too.
An hour after getting locked up, we fished out a tip sheet from the Coriolanus premiere, complete with headshots lest us red-carpet reporters not recognize the less bold of the bold-faced names.
"Is that your parents?" asked a young pen-mate.
We quickly folded the tip sheet away.
It eventually became apparent that no one would see a judge until midday Saturday, so around one in the morning we started to tell stories.
"Look, my nigga, you either get out of here or you go to The Island," a man, let's call him Ben, said, sitting beside us. "That's Rikers, and like most of you niggas I been there."
"Yeah I been there," said another man. "With this mothafucka!"
He was pointing at Felix, who had stuffed his head in a puffy jacket, trying to sleep.
"This a hotel compared to The Island," Ben went on. "You got rats and shit, plus the showers. You ever been to the showers in Rikers? You hear screams."
Certain topics could last for hours. They debated the merits different strains of weed. Sour or purp, the eternal question. They argued Spanish Harlem girls versus Brooklyn girls, discussing the differences anatomically and in detail. They discussed relationships. A guy who called his girlfriend on the cell's phone got mercilessly ribbed for being mushy ("You got a pussy down there, nigga?").
The young man to the right of us shook himself awake, mashed the tips of his fingers into his eyes. It was around 4. The florescent lights blazed and never dimmed, like a casino.
"Anyone got a light?" the young man asked.
"You ain't got a cigarette, do ya?" someone replied.
"Nah, man," the kid responded. "I got some bud."
"You crazy."
"Want some?"
"Look, what you in here for?" Ben asked.
"Gun."
"Yours?"
"Buddy's"
"It marked to any bodies?"
"Two."
"Son, how old are you?"
"17."
"Look, you're going to The Island for longer than you've been living, so if I were you I'd flush that shit. Save yourself a few years."