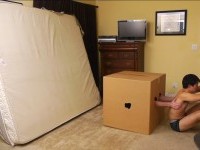 "I go to New York and I see so few shows that are worth a damn," said former television executive Blake Byrne. He was talking with former Los Angeles art dealer and current New York art dealer Katie Brennan at last night's opening of Art Los Angeles Contemporary, the three-year-old art fair held in a hangar at the Santa Monica airport. "All I know is, I just redecorated my home and I woke up and realized, 'Holy shit! 80 percent of the work I reinstalled comes from L.A. artists… and my house has never looked better.'"
Ms. Brennan, who moved her gallery to New York two years ago, had been asking why the Hollywood crowd isn't more into art collecting. "There's so much money but I have no idea," she said. "Maybe because many of them are already artists themselves?"
The Observer came to last night's opening with a different question. Late last week, news broke that east coast hedge fund honcho Steve Cohen joined the board of the Los Angeles Museum of Contemporary Art (LA MoCA). Could it be because art-loving Angelenos have more fun than their New York brethren?
En masse at the fair's vernissage were the 'arterati'—a combo platter of literati and glitterati with better clothes—as well as a smattering of powerful collectors like Mr. Byrne, who is a MoCA trustee, Eugene Sadovoy and John Friedman a board member at New York's New Museum. In terms of content, the fair, which attracts an international roster of exhibitors, has upped its game this year: gone are the pieces that were attempts to shock but only made the crowd gag or guffaw at blatant clichés. Instead, the 2012 edition brings strong, solid art—like the paintings of Leo Gabin at Peres Projects from Berlin, or that of Kenneth Tam from ltd los angeles. Mr. Tam's video, entitled The compression is not subservient to the explosion; it gives it increased force was an exercise in exploration and uncomfortability, showcases Tam over the course of 11 minutes as he interacts with various strangers he met through Craigslist. In one instance a stranger is in a cardboard box and invisible to the viewer. The stranger peers out at Mr. Tam, examining him, and ultimately reaches out to make physical contact. Thanks to Mr. Tam, ltd's tiny booth was consistently crowded all night—people were also there to use Anton Lieberman's Land Periscope to see what was going on around the fair. (Not a bad tool for a journalist, we thought.)
Art fairs have a lot in common with beauty pageants, except that instead of a long catwalk on which women strut in high heels and glossy hairdos, the competition takes place in a series of small compartments—booths—where dealers strut their stuff. The stuff in this case being art. Fairs, in other words, are galleries' chances to show collectors and the general public who they are, and what they've got, and these days, with the art world's calendar packed with fairs, the fairs themselves are competing with one another.
We sidled up to the booth of Kathy Grayson's gallery, New York's The Hole, thinking she'd be the perfect person to ask for an impression of Los Angeles. After all, before opening The Hole, she worked for Jeffrey Deitch, who is now director of MoCA. "It's not just that my former boss is having a huge impact on the L.A. art scene, but that I show L.A. artists," she said, explaining why she came here. "I need to connect with them. There are great galleries in L.A. and I need to connect with them too, like Ohwow and New Image Art. I actually come here all the time."
Ms. Grayson looked relaxed. "Maybe it's because I have a good feeling about this fair this year," she said. "So far we've sold a $10,000 piece, a $15,000 piece and two $8,000 pieces." Not bad, but nothing compared to L.A. dealer David Kordansky who, according to gallery director Stuart Krimko, had parted with everything in his booth by evening's end.
At the young age of three, ALAC is now the veteran in what is starting to look like a crowded art fair landscape in Los Angeles. How does it stack up against the new upstarts, Art Platform, which launched downtown last October, and Pulse, which ran concurrently with Art Platform?
"I thought there were some great pieces at Art Platform, but the venue made me feel really weird," said Ms. Grayson. "It was cramped. I think the work here is better. The vibe, the venue—most of my favorite galleries are here tonight. This is definitely a place where you can discover new artists, and people don't really pre-sell; as opposed to when you walk through Miami (Art Basel) and everything's been sold and you can't really participate—that's no fun."
Fair director Tim Fleming describes ALAC as "the international contemporary art fair of L.A."
"I don't have much to say about the other fairs," Mr. Fleming demurred. But he happily promoted his own event. "We championed the L.A. scene and what's going on here. An art fair is a recipe and we stick to what we do, which is a mix of half L.A. galleries and half galleries from the rest of the world."
The appeal of ALAC seems to be that even though it's grown, it hasn't become bloated or unmanageable. "When I first came into this show, it wasn't super big or successful but it was a good space," said Jack Hanley, who has had galleries in Austin and San Francisco, and is now based in New York. "Everyone is pretty chill and it's an easy fair to do, especially these days where there's a certain cannibalizing of fairs—the quality is still there at places like Art Basel in Miami, but it's become a total, straight-on market. Plus, about a third of the good artists that I would be interested in or show would be from L.A."
Ms. Brennan compared it to the fair that the New Art Dealers Association (NADA) runs in Miami every December. "It's smaller, more intimate and I feel like I have more of a dialogue with the other galleries around me. It's got a good vibe—it's very L.A. and communal."
By 9 p.m. those dreaded overhead lights were blinking—everyone get out. By the looks of things, there would be no after party—there was no need—this was the party in every sense of the word. (Not that there weren't other things going on: in West Hollywood, on this very same evening, New York dealer Matthew Marks inaugurated his L.A. branch with an exhibition of abstract painter Ellsworth Kelly—perhaps an inopportune night to launch, but according to gallerist Al Moran of Ohwow, who himself opened a Daniel Arsham exhibition the same night as the fair's event, it was not to be missed. "The space is serious," said Moran. "You can't go wrong with Ellsworth Kelly either—it was very cool.") And while this may have been only Day One for the 2012 show, in the scheme of West Coast art fairs, Art L.A. Contemporary comes out the winner in all categories—beauty, content and intellect. Even in that nod that no one wants but that everyone comes to respect—Miss Congeniality.
Strengths: Aris Moore at Jack Hanley, Anthony Pearson at David Kordansky, Brock Enright at Kate Werble, Karen Sargsyan at Ambach & Rice.
Weaknesses: Ed Moses at ACE Gallery, which unfortunately resembled macramé hangings from the '70s fused with a Rorschach test.
Celebrity Quotient: Low. Lisa Edelstein, Sam Tramell. Wednesday's downtown opening of the L.A. Art Fair, by contrast, brought out James Franco, the Foo Fighters' Dave Grohl and David Arquette.