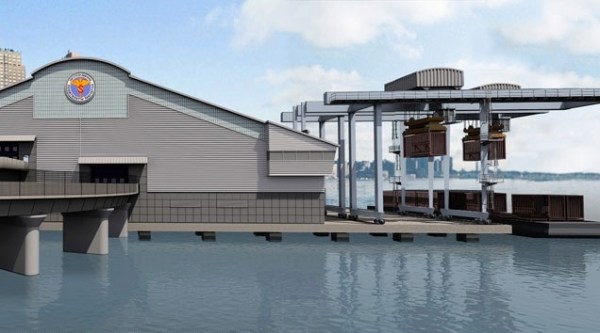 The Upper East Side waterfront is finally setting sale, and plans continue to emerge for what just might be built there. Yet there is one project that continues to miff and tiff the silk-stockinged hordes: a marine waste transfer station set to be reactivated on 91st Street.
Locals argue that the facility is inappropriate, sitting in the middle of a public park as it is. One resident told The Observer last year how his daughter's softball team was mocked by teams down from the South Bronx, even, so you know this plan is bad. (No offense to the South Bronx, just saying.)
The Bloomberg administration counters, rightfully we might add, that every neighborhood should be responsible for its fair share of the city's waste management system. In other words, stop dumping on the South Bronx.
The city won the last of a legion of lawsuits filed by Upper East Siders last year, and now the Department of Design and Construction has released a request for proposals to develop the project. Already 55 firms have inquired about the project.
"Moving forward on this project represents historic progress on the mayor's solid waste management plan, which will greatly improve the sustainability of our waste disposal, help fulfill the goals of PlanNYC and improve fairness across all five boroughs," a Bloomberg spokesman told Crain's yesterday.
But the community, including some influential public officials, have vowed to continue their battle against the waste transfer station. "A garbage dump doesn't belong in a residential neighborhood, and we won't stop fighting until the city trashes this plan," local Councilwoman Jessica Lappin told DNAinfo.