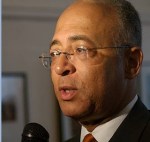 Former City Comptroller Bill Thompson has raised close to $650,000 this fundraising period.
The number puts him at lower rung than Public Advocate Bill de Blasio, who raised over $1 million, but above Manhattan borough president Scott Stringer, who posted over $500,000.
It remains to be seen however if this is enough to overcome questions about Mr. Thompson's ability to fundraise. His campaign has raised less than $1 million, far less than any of his opponents. 
In 2009, he struggled to raise money against the deep-pocketed and heavily-favored Mayor Mike Bloomberg, but came within four points of knocking him off.