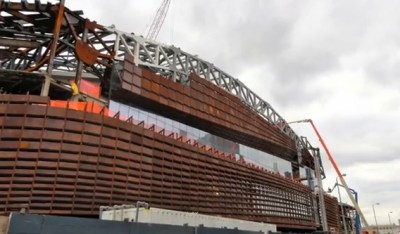 After years and years and years of delays, debates, lawsuits and left turns, things have been moving along at a favorable clip at Atlantic Yards—at least compared to past history.
Since the Barclays Center broke ground two years ago, construction has continued pretty much unabated, a few rodents notwithstanding. Meanwhile, Bruce Ratner is behind on his plans for new apartment towers, but he is also shaking things up with the idea of making them prefabricated.
It is then a little surprising to learn that the firm responsible for the facade of the new arena has abruptly shut its doors, and the completion of the Barclays Center could hang in the balance.
Atlantic Yards watchdog Norman Oder first got wind of the closure of ASI Limited, which was fabricated the distinct weathered-steel facade panels for SHoP's reclad arena. This would seem like an easily solved problem—just hire another facade consultant to complete the project—but ASI created a special purpose-built facility for the express reason of creating this facade. Consider the complexity of the project, which Mr. Oder notes is "specialized work and presumably not easily transferred," reinforced by a description of the project from SHoP:
Earlier this year ASI Limited, the facade contractor for Barclays Center, flipped the switch on for their custom built 2500′ linear conveyor system designed to accelerate the weathering process for the 12,000 individual panels and supporting rails that make up the weathering steel portion of the facade designed by SHoP Architects.
Replicating the process elsewhere could present a challenge, especially considering the weathering process was already running behind schedule, according to Mr. Oder. Add in the fact that the arena was scheduled to open in only a matter of months, and solving this problem seems as challenging as the Nets making the playoffs.
But Mr. Ratner has pulled off his fair share of buzzer beaters here before, and he and Nets owner Mikhail Prokorhov certainly seem determined to see the project through. A spokesman for the developer declined to comment: "No comment as of now." We're on the edge of our seats.