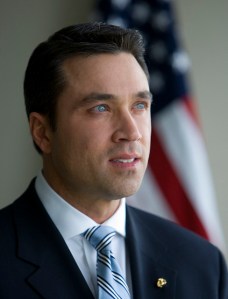 Eric Ulrich , the youthful Queens City Councilmember who has been deputized as Mitt Romney's campaign chairman in New York City, defended the Massachusetts governor's use of Congressman Michael Grimm as a top surrogate for his presidential campaign.
"These are just accusations. The last time I checked people are innocent until proven guilty," he said.
Over the weekend, a story in The New York Times detailed how Mr. Grimm, a freshman lawmaker from Staten Island, raised more than $500,000 through an Israeli citizen now being investigated by the F.B.I over accusations that he embezzled millions of dollars from Yoshiyahu Yosef Pinto, a famed Manhattan rabbi. According to the story, Mr. Grimm and the Israeli set up straw donors to secure money over the legal limit.
Mr. Grimm was in Florida last week campaigning for Mr. Romney, and had been in New Hampshire on the campaign's behalf during the primary there.
"I believe that Michael is an asset to the Republican Party and his constituents are very lucky to have him," Mr. Ulrich said. "In this business anybody can be accused of anything. I am sure  that his name will be cleared and his reputation will not be tarnished by this. I believe he will move on and continue to do a great job."
"He is a rising star. Grimm is a rising star," said Mr. Ulrich, who is all of 26 himself.  "I have a hard time believing these accusations."
Mr. Grimm had been taking an increasingly high-profile in the Romney campaign, rushing to defend the former governor after he told an audience that he likes "being able to fire people" and making himself readily available to reporters to tout the candidate. One would imagine that Mr. Grimm will take a less high-profile role in the coming weeks.
"These are very serious accusations and this will play itself out however it plays itself out, but ultimately I believe he will be vindicated," said Mr. Ulrich. "I always found Michael to be very honest, somebody who served our country with enormous integrity. That is why I have a very hard time believing that he would engage in anything like this. It just doesn't seem believeable."
"