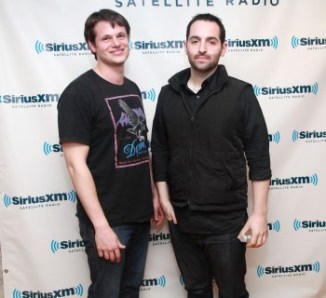 THE TWO MEN The New York Times anointed the "darlings of the New York culinary set" and the "future of Italian food in America," Mario Carbone, 32 and Rich Torrisi, 31—along with their business partner, Jeff Zalaznick, 29—do not flatter easily.

Having opened two wildly buzzed-over restaurants (Torrisi Italian Specialties and the barely two-month-old Parm), not to mention a Yankee Stadium outpost, in just two years, they're well aware that they are having a moment.
Indeed, it's their detractors who seem to really amuse them—at least when the judgments, rendered anonymously on various food blogs, are read aloud.
"Glad to hear that it sounds like these guys are embracing the douchebags they really are. (Actually, just Mario)," wrote one anonymous commenter on Eater, a line that had the trio cracking up.
"Mario is actually a pretty decent guy …" countered Guest #3. Mr. Torrisi looked at the floor, unsuccessfully suppressing a grin, while Mr. Carbone shrugged.
"… compared to Rich, at least."
At that, the three men lost it; they keeled over, cackling.
"Which is true," added Mr. Torrisi, catching his breath.
The Torrisi boys, as they are generally known despite the fact that only one is named Torrisi and none are all that young, don't often read such comments. "I think if you go on any single topic on Eater," Mr. Carbone said, "you'll find a comment like that about its owner."
"If every single person loved you," Mr. Torrisi added, "you wouldn't be making art. They're just armchair critics. That's just what they do."
It was a Monday morning in Little Italy, and the three partners behind the Torrisi Italian Specialties dining phenomenon—the scruffy, sleepy-eyed Mr. Carbone, the slim, Matt Damonish Mr. Torrisi and the boxy-framed Mr. Zalaznick—were sitting with their coats on, huddled around a four-top in the middle of Parm, the newly opened restaurant next door to the original spot.
The sniping came via comments appended to various blog posts concerning the newest addition to the Torrisi family: In November, the partners signed a lease for a Thompson Street space that, until now, housed the old-school red-sauce Italian joint Rocco Ristorante. The original owner's rent was more than doubled by the space's landlord. Rocco's owner threatened to take the landlord to court, and the classic neon red ROCCO sign with him.
The new restaurant, which won't open for "a while" (per Mr. Zalaznick) will cap an extraordinary growth period for the Torrisi empire, which seems to have struck a nerve by bringing a modern sensibility to Italian-American staples.
Still, the idea of the buzziest new restaurant group in town replacing a 90-year-old standby has generated a certain amount of controversy.
"This space was going to be available whether we took it or not," Mr. Carbone noted. "And hopefully we're going to be able to get in there and honor its history."
"People want to talk about New York vanishing," Mr. Torrisi piped in. "I think we're rebuilding it."
They don't yet know exactly what they're going to do with the space—no plans as of yet for the concept, the menu, the design, or even the name.
One thing about the Torrrisi boys' growth into the old Rocco space is certain, however:
They are definitely keeping the sign.
MR. TORRISI AND MR. CARBONE are native New Yorkers, from Westchester and "all over" Queens, respectively. The two met in 1998 while attending the Culinary Institute of America upstate, in Hyde Park. They weren't in the same classes, but were students at the same time, Mr. Carbone said, before Mr. Torrisi could interject, "Those two girls."
"We ran into each other because the two girls we were dating were friendly," Mr. Carbone explained. "They forced us to go out together."
They didn't actually become close friends until after school, when they met up again working together at Cafe Boulud. "The circuit is small when it comes to cooking in New York and being at a really great place," Mr. Torrisi explained.
Mr. Carbone jumped in: "That was known as the best kitchen to work in at the time. When you asked around, it was, 'You gotta go work for Andrew right now,'" he recalled, referring to Andrew Carmellini, who headed up the kitchen at Cafe Boulud at the time, and has since gone on to open A Voce, Locanda Verde and, most recently, the Dutch.
After four years at Cafe Boulud, Mr. Torrisi went to Europe for six months and trained under various chefs before coming back to New York and opening A Voce with Mr. Carmellini, where he remained for a year and a half. Mr. Carbone went to work for Wylie Dufresne at molecular mecca WD-50 before moving on to Mario Batali's Del Posto.
The idea to team up and open a place of their own began to take shape around this time, when they shared a Greenwich Village apartment (the two bachelors now have separate places in the same building in the Village). Friends and family put up the money, and a business plan soon became evident: During they day, they'd operate deli-style sandwich shop, with the sort of high profit margins that could subsidize a more ambitious dinner menu.