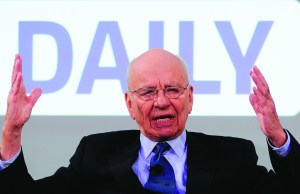 Police in the United Kingdom made new arrests Saturday as part of "Operation Elveden." The dead-serious probe with the Tolkienesque name is digging into allegations Rupert Murdoch's Sun paid cops for inside information. News Corp's Management and Standards Committee reported the arrests and took credit in the process:
"News Corporation made a commitment last summer that unacceptable news gathering practices by individuals in the past would not be repeated," the committee said in a statement confirming the arrests of four "current and former employees" of the Sun.
Four suspects were journalists, a fifth was an officer with the Metropolitan Police. Reuters reported that the Sun's crime editor Mike Sullivan, news head Chris Pharo, ex-deputy editor Fergus Shanahan and former Sun managing editor Graham Dudman were among those taken in.
"Operation Elveden" is one of three ongoing inquiries into how News Corp's now-defunct News of the World gathered intelligence.
[Reuters]