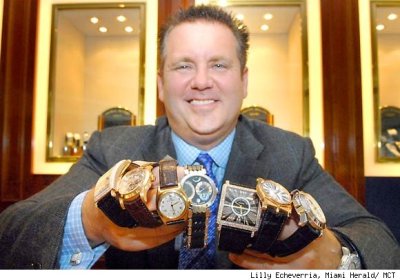 Lawyer Scott Rothstein was living high back in 2006. The Bronx-born boy turned Florida legal eagle led the life of the .1 percenter, which, in his words consisted of "the ability to do whatever you want, whenever you want, wherever you want, by whatever means you can think of."
Back in 2009, Mr. Rothstein, however, his house of cards came crashing down when the feds caught wind of his side project, a "structured settlement" plot that evolved into a $1.2 billion Ponzi scheme. Now serving a fifty-year sentence in a Floridian federal penitentiary, another house in Mr. Rothstein's once stacked deck has disappeared: a home once belonging to Mr. Rothstein, then seized by the U.S government, has sold for $5.09 million, city records show.
The "United States of America" is listed as the seller on the property deed, with an address of One Saint Andrew's Plaza, the U.S. Justice Department's location in New York City. The buyer purchased anonymously through the entity "Valen LLC," which appears to belong to a foreigner.
According to a listing from Douglas Elliman agent Sabrina Saltiel, the buyer will have "BREATHTAKING SKYLINE AND RIVER VIEWS" (emphasis hers) from their new pad. The two-bedroom, two-bath place is inside 151 East 58th Street, a.k.a. One Beacon Court a.k.a. the Bloomberg Building. The 42nd-floor home comes "fully equipped with top of the line everything," which comes as little surprise considering that Mr. Rothstein likes, well liked, all things opulent. "I tend toward the flashy side, but it's a persona. It's just a fucking persona," he said. We wonder how his persona is liking those orange jumpsuits. Flashy indeed!
Mr. Rothstein lived a rockstar life, with raucous sex parties where, we imagine, he didn't just make it rain stolen money, he conjured up whole damn hurricanes. We can only imagine what that midtown apartment has seen!
Sex parties or no, Mr. Rothstein bought the place with his wife, Kimberly, in 2008 (just one year before his arrest) for $5.95 million. Perhaps unsurprisingly, the government sold it at a loss of almost one million dollars, after an initial asking price of $5.4 million. We can hear his victims grumbling from their beachfront Tampa pads now.
eknutsen@observer.com