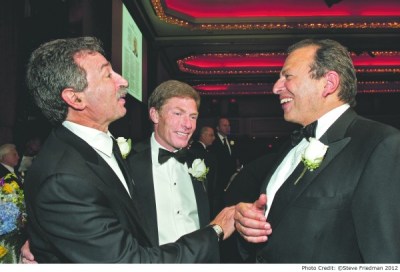 6:17  Alan Weiner, the group head of Wells Fargo Multifamily Capital, one of the biggest lenders in the city, is chatting busily with Rob Speyer, one of the chief executives of the real estate firm Tishman Speyer.
Eric Deutsch, the former head of the Downtown Alliance who now is an executive at Montparnasse 56, a builder of observation decks, surveys the crowd. "My first job out of college in the early 1990s was with REBNY," he says. "The market was terrible then and they barely had anyone at the banquet. They made me sit up front during the dinner to make it seem like people were here."
6:30  Congresswoman Carolyn Maloney strides in. "I just secured us $300 million, a high-speed-rail grant to develop a line between Boston and New York. It's very exciting," she says, taking a crab leg. After she's done with the morsel of meat, she holds the shell and looks for the waiter. "Where do I put this thing?"
6:32 The room's cocktail banquet is about 75 percent full.
6:45 Robert Lapidus, an executive at the real estate investment company L&L Holding Company, becomes enraged when The Commercial Observer asks him if he is bidding on a leasehold interest in the Flatiron office building 114 Fifth Avenue, as is rumored. "We're not here to talk about fucking business!" he yells, grabbing The CO's notepad and tossing it.
Gary Green, head of the building services company Alliance, briskly and very politely retrieves the notebook while Mr. Lapidus hurls epithets at The CO. Acting like a true gentleman—and also looking the part in a finely cut tuxedo—Mr. Green apologizes for his friend. "You can't do that! Knucklehead!" The CO overhears him say to Mr. Lapidus.
6:46  Kenneth Fisher, a partner at the real estate investment company Fisher Brothers, tells The CO that this is the first REBNY banquet he has been to in five years. "Every time this year, I've been playing golf in the desert [at the Bob Hope Classic]."7:00
Jeff Roseman, a retail leasing executive at Newmark Knight Frank, squeezes through the crowd. "It's a great place to see old friends." He greets Steve Green, the founder of the city's biggest landlord, the REIT SL Green.
7:05 "This is my childhood," Helena Durst, looking elegant in a flowing dress, says of the banquet. "Do you like Christmas? Do you like Sunday dinner? That's what this is for me. I have so many memories of coming to this party."
7:09 Deputy Mayor Robert Steel and Councilwoman Jessica Lapin walk through the room together, busy in conversation.
7:15 Guests are being pushed out of the cocktail reception into the main dining room. The dinner is about to begin.