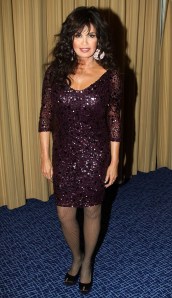 While J.C. Penney and Macy's fight over exclusive rights to Martha Stewart's personal brand of cookware, kitchen utensils, sheets and towels in court, the Hallmark Channel–home to The Martha Stewart Show since 2010–has been talking with Marie Osmond about a new daily show, Fox News reported.
Earlier this month, the Post reported that Martha would not be renewed next season. Martha Stewart Living Omnimedia and the Hallmark Channel separately explained that although Martha would not return in the same form in the same place, the two companies were exploring a new format.
But back to this Marie character. Country-pop singer, 52, sister of Donny, one-half of the Donny and Marie variety show. Star in the Dancing with the Stars-sense. More than qualified to have her own daytime cable show. But what makes them think she can replace Martha?
Martha Stewart's first cookbook taught us how to cater our own wedding. Marie Osmond lost 50 pounds on Nutrisystem. Martha Stewart wrote an encyclopedia of crafting; Marie Osmond has a line of quilter's sewing machines. Martha Stewart ran a billion dollar company; Marie Osmond sold dolls on QVC. Does anyone even know how organized Ms. Osmond's closets are?
Then it occurred to us: Marie Osmond is a Mormon. Nice try, Latter-day Saints.  Powerful though you may be, it's going to take a little more than quilts and dolls to convince us Mormonism is aspirational and Mitt Romney is a "good thing."