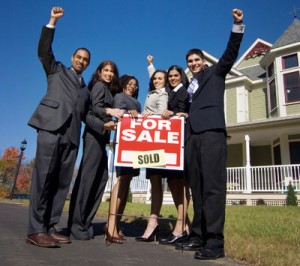 Long known for attracting a broad swath of aspiring professionals, the real estate industry continues to draw significant numbers despite the economic downturn and housing crisis. With sugarplum dreams and of hefty commissions (and, doubtless, the specter of 15CPW towering before their eyes), thousands of New Yorkers from all walks of life sit through the requisite classes, all hoping to pass the state examination for real estate brokers. The New York Times recently sat through a session in Queens and spoke to students hoping to try their luck in the real estate game.
Aspiring agents are required to sit through a 75-hour class, with tuition costing between $275 and $400. For many, however, real estate is not the first career path. The Times spoke to several students enrolled in the class, among them a 46-year-old postman worried about his future, a construction worker interested in development, a Fordam student hoping to pay for tuition, a newlywed Jamaican and a former flight attendant.
Although the market has slowed, the numbers of students taking real estate examinations in New York has remained relatively strong.
More than 16,000 people statewide took the test last year, down from a peak of 42,496 in 2005, during the real estate boom. As of mid-December, 9,133 had passed — the newest foot soldiers in a real estate market in which prices are down, sales are sluggish and mortgages are difficult to acquire. But as several students in Flushing saw it, the real estate market, despite the slump, was in better shape than their other options.
Many of the students in the Queens class had international experience or were bilingual, skills they hope will be helpful in a market increasingly catering to foreign buyers. Calling all Russian speakers!
Even in New York's relatively strong real estate market, things seem bleak enough to look for a job elsewhere. Then again, where might that be? Wall Street? Education? Journalism? Booming industries for sure.
eknutsen@observer.com