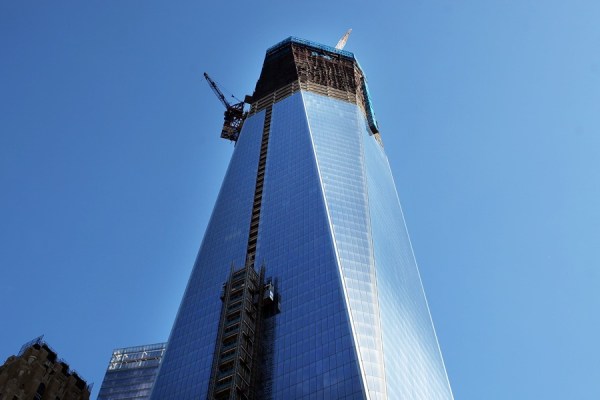 This morning, upon further reflection, The Observer was prepared to retract last week's story about the negativity hanging over the World Trade Center site yet again. A reader had contacted us to say that it was a silly notion, considering that what had changed was something far more significant—rationality had come to the the project, replacing the emotions that had too long dominated the scene.
In fact, this is a very positive development and, far from undermining the turnaround story, actually validates the continued turnaround of the overall redevelopment.  It proves that, for the first time since the inception of the 2003 Master Plan, the development of the WTC site is actually following rational market principals rather than the prior framework, which dictated decisions according to political and aspirational principals, which in turn previously led to unwarranted public subsidization of the overall project.

Thanks to the 2010 deal and the Port Authority's arbitration win and strong negotiating stance in the face of Bloomberg, Silver and Silverstein opposition, the public is only on the hook for fully backstopping one of Silverstein's three towers (his smallest tower and the one that's two-thirds pre-leased).  In this case, the market triggers worked to avoid irresponsible subsidization of a tower that could not support its costs.
Bolstering this notion was Friday's news that white shoe law firm Chadbourne was interested in taking space at 1 World Trade Center. The market at work!
But the negativity could not even wait a full business day before swarming the site again. This morning, The Journal reported that the actual cost of 1 World Trade Center had risen $700 million, to $3.8 billion, based on new estimates contained in the big agency audit.
The tower already holds the unfortunate title of the world's most expensive office building, but now it is "by far" so. For comparison, The Journal points to the Burj Khalifa in Dubai cost but $1.5 billion, but it was also built with immigrant labor and without the same stringent security requirments of a project that has already been twice attacked.
Part of the reason the cost has jumped is because leasing expenses are now being factored in to the overall cost, and they were higher than privately anticipated in the first place. Regardless, the project is costing almost twice its estimated value of $2 billion.
So while it is helpful to look at the project in terms of market forces, can that ever be truly achieved? The fact that this latest bit of bad news has been revealed is good news, because it provides a better picture about what is actually happening at the site, even as it remains divisive once again. But it also serves as  a painful reminder of whether or not the cost of rebuilding it worth it.