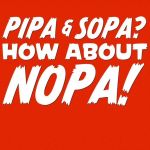 Hundreds of protesters gathered in front of the offices of Senators Chuck Schumer and Kirsten Gillibrand yesterday to protest their stance on the Protect IP Act currently making its way through the Senate.
The bill has become something of a political football–earlier this week TheLadders.com CEO Marc Cenedella  slammed Sen. Gillibrand for her support of the effort. Mr. Cenedella has been laying the groundwork for a potential campaign against Ms. Gillibrand.
Today we thought to ask the contenders of what will likely be the next heated federal election in New York–the Democratic primary for the 10th Congressional seat, currently held by Ed Towns.
As it currently stand, the district is home to the tech rich neighborhoods of Ft. Greene, downtown Brooklyn and South Williamsburg. Neither of Mr. Towns' spokesmen were available to comment on the legislation, but a legislative aide in his office said, "He hasn't taken a  formal stance right now. He is listening to his constitutents, getting feedback from them for the next couple of weeks until  the bill hits the floor in February."
The aide said that constituents have been contacting the office in droves and are 3-1 urging him to vote no.
He noted that Mr. Towns, "sides with industry in the past. Now he is re-evaluating the situation."
Hakeem Jeffries, the State Assemblyman who declared a challenge to Mr. Towns last weekend, said in a statement the supports the goals of those who wish to slow online piracy, but that he thought the current bill before Congress could be improved.
"The problem of illegal piracy is a significant one that should be addressed, and SOPA is an important first step in this regard," he said in a statement. "However, the concerns that have been raised by opponents of the legislation are worthy of consideration and should be carefully evaluated by Congress before the bill proceeds."
Charles Barron, the third candidate in the race, said that he wasn't aware of the bill but was generally concerned about cyber-security.
"I didn't go through that one. The online piracy, all of us would be against that," he said. "That is a tough one because you don't want free speech, free expression, and all of that, but on the other side cyber-security is a major major issue. I am really concerned about cyber-security, it's transparency, accountability and all of that but not to the point that it stifles free expression."
Yesterday, websites like Wikipedia and Craigslist went dark to protest the bill. The bill meanwhile seems to be in danger of collapsing. Earlier today Politico reported that Senate Majority Leader Harry Reid won't whip votes for the bill.