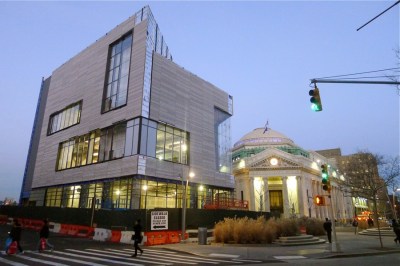 "Can you believe this? They just tried to charge me $50 for this, just 'cause it says Sony on the side." James Sanders was standing outside CompuWorld just after sunset on Monday, a grey beanie on his head and burgundy Versace scarf on his neck. Mr. Sanders had managed to barter the men behind the counter down to $10 in only five minutes of work.
Mr. Sanders grew up in the neighborhood, and even though he now lives near Columbus Circle, he said he makes the trip down at least once a week to do his shopping. "You come down here to Downtown Brooklyn, they will always work with you," Mr. Sanders said. "They never want to let the money walk out the door. You could never do that at a name store. It's embarrassing, you could come by every day, they still don't know you."
Just then, a pack of screaming teenagers could be heard from a few blocks away. At least a hundred of them were packed around a pair of men, there was shouting, it seemed perhaps a fight. It turned out to be the rapper Drake, who stopped into Quick Strike, one of the strips remaining hat-and-shoe outlets. He picked up a Toronto Blue Jays cap, representing his hometown team. Even in Canada, they know the Fulton Mall. Would Drake really have come to shop at Lids down the block?
Lauri Cumbo, a Fort Greene fixture who founded the Museum of Contemporary African Diasporan Art, argues that the loss of the mom and pops is bad, but worse is the erosion of the mall's culture. She points out that while the Bronx may have been the birthplace of hip hop, the Fulton Mall is where it grew up, with Biz Marquee and Biggie Smalls rapping on the corner. "The way things are going, entrepreneurship will be smothered all together," she said. "There will be no room for creativity or originality. People may still shop here, but there will be no community."
At the Brooklyn Fare grocery on Fulton Street, Chris, who lives nearby, was shopping for dinner with his girlfriend. They were deciding which humus to get, and settled on Three Kings. Did he do much shopping on Fulton Mall? Would he if the stores were to change?
"I mostly come here to shop, or on Atlantic and Court," he said. "It's different types of stores over there, and it feels too much like the city. I moved out here a month ago, and I did it to get away from all that."
mchaban@observer.com