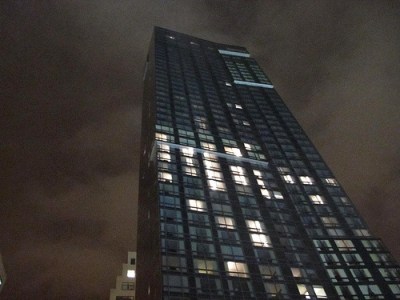 Blame the bad spirits. Or maybe it was the economy. Or living next door to the Holland Tunnel. Or the fact you couldn't actually live there because it was not a condo—that would violate city zoning for a manufacturing district—but a condotel, where units were habitable 120 days a year and never for more than 30 days at a stretch (move out for a day and you were fine). Still, in this age of the foreign buyer, when all anyone wants is a pied a terre, the Trump Soho would seem to be the perfect home. Wasn't that the plan all along?
Well, it has not worked out, as the developers of the bedrock-defying 48-story tower have decided to put the remaining units in the building up for auction, according to Bloomberg. Alex Sapir, developer of the property and son of the cabbie turned billionaire Tamir Sapir, said he was approached by an interested party but has decided to go the auction route to test the waters of a bigger sale.
"This is a real trophy property," Sapir told Bloomberg. "An asset like this is a once-in-a-lifetime opportunity."
That said, only 85 of the 391 units in the building have sold, based on our count of StreetEasy listings (Bloomberg counted 90 sales). With hotels still very much in demand, perhaps someone has a vanilla plan in mind, like a regular-old hotel.
Still, this area, with its generous industrial zoning, allowing for that special hotel loophole, has not been kind to hoteliers. Master builder Gary Barnett had plans for an even taller hotel around the corner from the Trump Soho, since nixed. Maybe the place really is cursed.