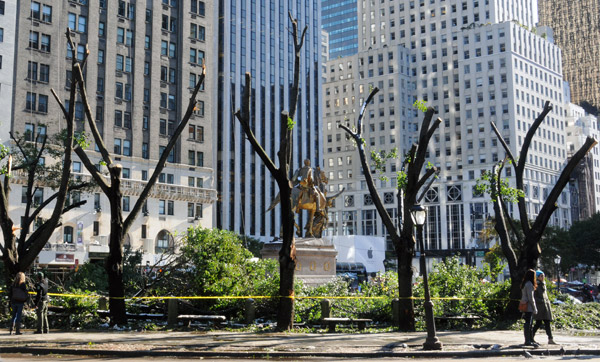 It seems that the prayers of Dr. Seuss' lovable Lorax are finally being answered—in the form of MillionTreesNYC. But like all things, it comes at a cost.
Having recently reached its halfway point of planting 500,000 trees in October 2011 (a year ahead of schedule), MillionTreesNYC now faces its biggest obstacle yet: the U.S. economy. Just as nearly every other industry's budget and workforce are being trimmed, the greenery program is no exception, according to City Limits.
A vital component in ensuring that the program reaches its goal is maintenance efforts. Pruning is necessary in clearing away fallen branches and promoting tree growth, however, pruning cycles have been extended with each consecutive year.
To make matters worse, Mother Nature has been no innocent bystander in all of this: New York's recent encounters with unpredictable and extreme weather (e.g. the September 2010 tornado and October 2011 snowstorm) have left the city footing a bill for claims related to injuries and damages from fallen debris. And while New York's iconic London Planes are loved by many of its residents, they are also the most susceptible to incurring damage in severe weather conditions.
But Parks Department is trying to be proactive. "Even in the last few hurricanes and snow storms we've experienced, less than 1 percent of trees uprooted were planted within the last four years through MillionTreesNYC, which is a testament to the success of our revised planting methods" Parks spokeswoman Tara Kernan told City Limits. The true culprit of poor planting decisions is Robert Moses, who strongly encouraged the planting of London Planes back in the 1930s.
So what does the future look like for MillionTreesNYC? Despite facing a compromised budget, limited supplies, and a hiring freeze, the Parks Department does not seem shaken. The key to all of this is to be more resourceful, or as Ms. Kernan puts it, "to do more with less."
The city is encouraging a communal effort for the movement's success, which means: get off your stump, and take care of your trees—and quick, or else New York could share the same fate as smoggy LA.
realestate@observer.com