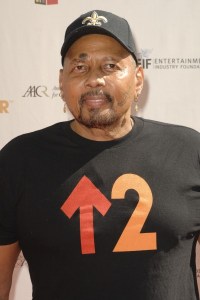 While Greenwich Village has long been a favorite celeb haunt, it seems that Los Angelite starlets are now the neighborhood's most popular bold0-faced demographic. Well the area is about to get a whole lot smoother, as Grammy winning soulster Aaron Neville and his wife Sarah Friedman just bought an apartment, The Observer has learned.
Their new pad, in the Randall House at 63 East 9th Street, is right in the heart of NYU-ville. Fortunately they'll be far above the fracas, as the couple bought a penthouse unit in the building. Prudential Elliman broker Jessica Levine, who represented Mr. Neville and Ms. Friedman, say that the couple plans to fully renovate the duplex penthouse.
And they have a large canvas to work with, it seems. The listing, from Christopher Moseley of Ruttenberg, describes the 1,300-square-foot duplex as a "VERY DESIRABLE and sought after CENTRAL Greenwich Village CONDOP (a Coop with Condo RULES AND THE CONDOP has owned the LAND for a long, long time!!)." Emphases his, naturally. Tell it like it is, Mr. Moseley! Is there room for a recording studio in there?
In addition to the "VERY LARGE ROOF TERRACE" which overlooks the Gothic Grace Church steeple, the two-bedroom, two-bath home features "custom plantation shutters," (a feature we imagine Mr. Neville, a NOLA native, and Ms. Friedman will remove in the renovation).
The couple paid $1.44 million for the "condop."